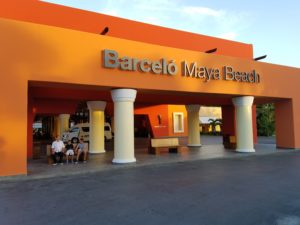 I just returned from a wonderful stay at the Barcelo Maya Beach Resort. It is not very often that I stay at a resort before I've toured it or know something about it. It is in my travel professional DNA. Anyways, I have to tell you that I was so unbelievably surprised at how amazing this resort is. I do think that it is good for certain families and I want to share my experiences with you.
Being that Apple Vacations is our preferred tropical vacation vendor we booked direct with them. We had the pleasure of using AmStar for our transportation to the resort. What I love about AmStar is that most often, you  and your family are alone in the transfer..we only had one other couple with us which meant, one stop before ours. The transfer from Cancun International Airprot to Barcelo is about 1 hour so you want to make sure you are prepared for that before you board the transfer.
Upon arrival we were greeted and directed on where to go. The open air feel of the lobby let us know that we were on vacation for the week. I love the old-world Mexico feel of this property.
Because we booked a premium level, we were escorted to the premium lounge where we were immediately greeted with a beverage, hors d'oeuvres and a cool lounge to wait in as we were checked in. I want to preface that booking premium is the only way to go at this property unless you are at the Maya Palace.
The level of service you receive at the premium level is much needed and won't cost you all that much more. Here's why we will always book premium:
Premium level lounge-This is a great feature because not only does it have food, but top-shelf liquor and a LaVazza Machine. As a coffee drinker, this was huge for me.
In room petite fours, bottle of champagne, and pool towels. Why are pool towels a big deal? Because otherwise you need to wait in a line with a pool card to get towels at all other categories.
Priority unlimited dinner reservations-You need reservations at this property and they cannot be done in advance. Your premium level concierge will take care of getting you those reservations while you are enjoying the resort. This is a huge plus!
Free room service-if you are not premium, you pay a fee.
Free Wine Bottles Delivered to your Room.
Free wifi
Express laundry service
20% discount on spa
Access to hydrotherapy circuit once a day. Believe me, this is a beautiful spa..do not miss this!
It is very important to point out that if you are not a premium client, you will get a la carte meals every other night. For example:
7-night stay- 4 a la carte dinner coupons.
6-night stay-3 a la carte dinner coupons.
4-5 night stay- 2 a la carte dinner coupons.
3-night stay- 1 a la carte dinner coupon.
This is not necessarily a bad thing. We found the buffets to be very plentiful! They are HUGE! Not only can you do your buffet at your section of the resort but you can also go to the other sections as well. Did I point out how hugs this resort is? We will chat about that later.
We did take advantage of using a la carte meals each night but had we stayed longer, we probably would have opted to have a more casual night 1 or 2 of the nights. Each night, the buffets had a different theme. One night was a seafood theme which was amazing! We took a walk through and they had lobster, shrimp, fresh fish and so much more. If you don't like seafood, they had plenty of other options or you can opt to dine at one of the other buffets.
Another great thing I love about Barcelo Maya is the layout. Some may argue it is too big but I want to tell you that within your section of the resort, nothing is too far. You have your amazing pool, your buffet, a selection of restaurants and of course your grills and grab and go. Never fear, you are never too far from a swim-up bar no matter where you are.  The only time we took the internal transportation was one night when we dined at the French Restaurant at the Palace.
Speaking of food! I just want to tell you, the food at this resort did not disappoint at all. I travel a lot! I believe that Barcelo put out some of the best food I've had to date at an all-inclusive property. We did not have one bad meal. Here's where we dined:
La Trattoria Ristorante Italiano
Capitan Morgan's
Kyoto-Japanese teppanyaki and Asian fusion
Brasserie
Quick tip: Men need to have on long pants in order to dine in the restaurants..they will not allow you in otherwise.
Food Gallery 
Another feature we LOVE about Barcelo Maya is the pool, or should I say pools! Their pools are amazing! The pools stretch out through the entire length of the property. They curve and have a ton of different water features. We loved the bridges and private alcoves allowing for some privacy.  There is something to be said about pool design, and Barcelo got this right!
My very favorite part is the beach. One major issue I have with traveling to Mexico is that so often, the beaches are red-flagged or full of seaweed. As a total beach fanatic, it is disappointing to me because I want to get in that turquoise water. Not only does the beach go on for DAYS but it is totally swimable! Of course, if you are a total beach crazy like me, you will want to stay in Barcelo Maya Beach because that is the best beach. I would like to point out that while the Barcelo Maya Palace building is the most upscale, it does not have a very good beach at all. You can totally walk over to any of the other parts of the beach but I did want to point that out.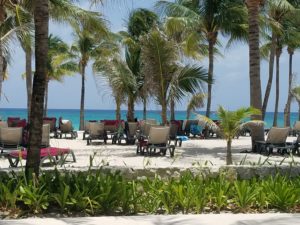 We did not have a chance to use the kids club at all because the kids wanted to swim all day. We did take a gander at it, and the kids looked very engaged and seemed to be having fun. In addition, we did not use the optional water park. While it looks super fun, we did not want to pay the added cost for just a couple of slides. If you are in the premium level, you do get a discount on the cost to get in. Contact your Guru Travel Professional for pricing.
The Mall is amazing! If you spend a full week a Barcelo Maya you will not be able to do everything that they have to offer. The Mayan Mall is so much fun! They have bowling, shopping, restaurants, a haunted house, family night club and so much more. We had fun wandering through there a couple of times. The best shopping was to be had just across from the mall Barcelo has brought in street vendors to sell more authentic items. My children loved interacting with the locals and getting some fun hats and shirts.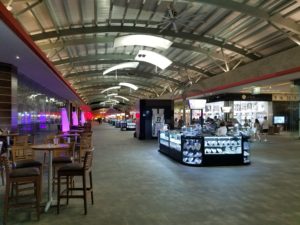 We loved our room! I am a stickler on clean spaces and Barcelo did not disappoint. Our room was kept pristine. We found the space to be plenty for the four of us. We loved that there was an option for our boys to sleep separately. The balcony was HUGE! We especially loved the Jacuzzi tub which came in handy on a rainy day. We hunkered down, ordered our complementary room service, wine and the boys swam in the tub all day long. It was an amazing day! Click here to watch my video walk-through of the room.
Room Gallery
The bottom line is..we will be back! We had a blast! Staff was great, room was great, beach was fantastic, food was delicious and the kids had a blast. There is nothing negative about Barcelo Maya. Also, for people looking for a wonderful wedding/group trip which will please all types of travelers, I would highly recommend Barcelo Maya.
Wedding Space
Are you thinking about traveling tropical? We would love to prepare a proposal for you. Call us at 877-825-6146 or email us at letstravel@thewdwguru.com.
[maxbutton id="8″ ]
Right now, I have two promo codes which will save you $200 per couple when you book a Barcelo Resort. Let's get your spring break vacation planned today!