I had the pleasure of staying at the Royalton CHIC Suites Cancun with my besties for 4 amazing nights! We chose this resort based on location, my personal experience with the Royalton brand (I love it!) and food!! In addition, we wanted a 30-minute or less transfer from Cancun airport. Let me tell you, Royalton CHIC Suites does not disappoint. When we stayed here, this property was not adult only, however, I feel it catered more towards adults. Since then, they've changed it to an adult only property.
This resort offers incredible food, stylish rooms, and a premium cocktail experience! You can spend your day lounging by the turquoise waters, or on Level18-Rooftop Cabana Lounge. At night, enjoy all of the social activities your heart desires. We loved the wine tasting, Glow Party, yeah, we got our body painted, and the shows.
Royalton CHIC Cancun Suites has two levels of service, Luxury and Diamond Club.
All Royalton luxurious rooms and suites offer:
• High thread count sheets
• USB charging stations
• Free high speed Wi-Fi resort-wide for all your devices
• In-room safe with interior power outlet
• Royalton signature rain shower
• Satellite television including specialty channels
• Minibar restocked daily
• Room Service from 7am to 10pm
• Amenities such as garment steamer, in-suite coffee/tea maker and hair dryer
• Each room with a balcony
• A/C with individual thermostat and ceiling fan
Diamond Club Accommodations
Receive an exclusive vacation experience with an
upgrade to Diamond Club™. This premium level of
service features the comfort of anticipatory service,
exclusive à la carte restaurants and bar areas, as
well as the shimmering pool and pristine beach
areas for the sole use of Diamond Club™ guests.
• Preferred room locations
• Preferential reservations in à la carte
restaurants
• Exclusive Diamond Club™ beach area with
waiter service
• Distinctive wrist bracelet
• Personalized check-in and check-out
• International and local liquors in the Diamond
Club™ Exclusive Lounge
• Selection of pillows from The Royal Spa
pillow menu
• Discounts on spa treatments and beauty
services
• Complimentary liquors and selected menu at
Level 18 – Rooftop Cabana Lounge
• Butler service and in-room liquor for higher
room categories
We had a Diamond Club Luxury Junior Suite and it was amazing!! Remember, we had 4 girls and we had plenty of room to get ready, and store our stuff. Another plus is the bedding. Not only are the beds very comfortable, but they are queen size. Many times beds are double at all inclusive resorts. We had two queens and a sleeper sofa which made for a lot of space. We also LOVED our balcony. We used this quite often. Let's take a look!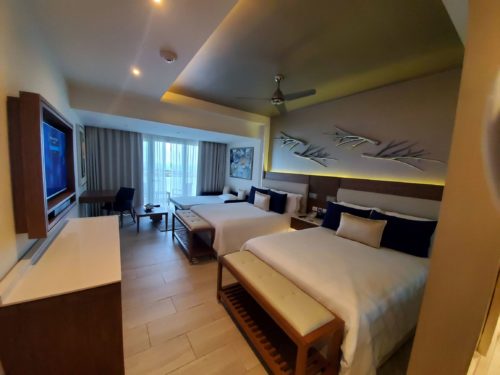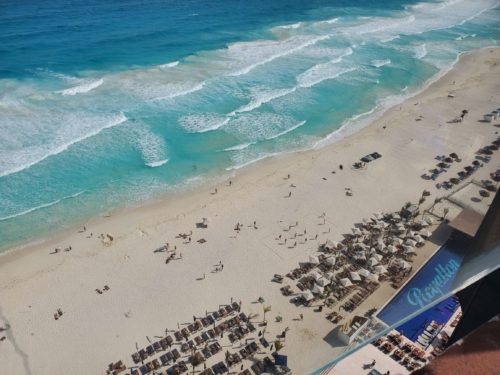 Royalton does a fantastic job with dining. You will really be able to have a nice array of cuisine and even your mid-afternoon coffee break at the cafe.
Gourmet Marché | International Cuisine
Discover the freshest local ingredients and enjoy
a wide selection of local and international flavors,
also offering fresh fruit juices and healthy options.
Hunter Steakhouse
This unique restaurant offers guests a grand
steakhouse experience. Watch chefs in the open
kitchen as they perfectly prepare your steak.
Agave | Mexican Cuisine
This restaurant provides the authentic culinary
experience of Mexico. Enjoy the fusion of
Mesoamerican cooking that combines old-world
Spanish recipes with a mix of European cuisine.
Regional selections like Oaxaca cheese and
Mexican herb oil are feature ingredients of favorite
dishes. This restaurant offers gluten-free selections.
Jade | Asian Cuisine
Impressive design sets the mood for an authentic
fusion experience. Discover the best of Asian
cuisine and fresh sushi at this unique à la carte
dining experience.
C/X Culinary Experience ($) | Chef's Table
Pleasing to both the eye and palette, a vibrant
menu is sure to create a memorable dining
experience as your personal chef takes you
through seven courses with musical selections
to accompany each dish.
SCORE Sports Bar and Lounge
In a casual atmosphere savor an ever-evolving
menu of grilled specialties for a comfortable and
casual meal.
Grazie Italian Trattoria
Enjoy a wide range of Italian cuisine at this delicious
trattoria. Its authentic design and traditional menu
make this restaurant the perfect place for couples
to enjoy well-known Italian comfort food.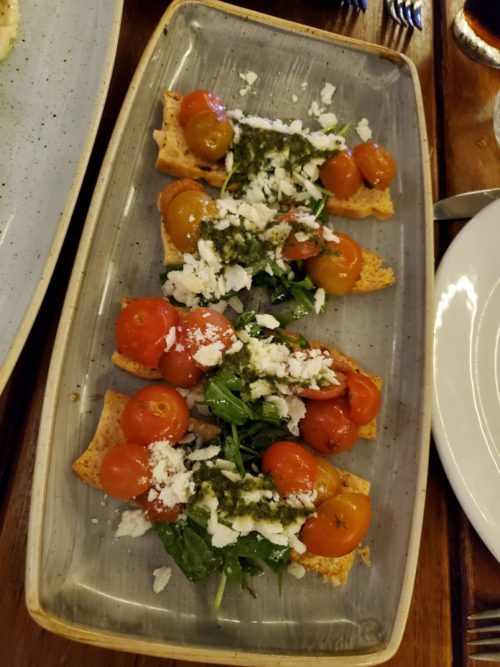 Including Level 18 there are three pools on property. One is an exclusive Diamond Club pool which has the premium alcohol and also the poolside butler service. While tipping is not required, we like to tip to ensure food and beverage is well tended to. Of course, the amazing staff greatly appreciates it.
If you are a cabana lover there are options for you:
Level 18 offers private rooftop cabanas available for reservation every day of the week except for Monday. Your rental will come with private full-service waitstaff, sectional lounge, ceiling fans, a dip pool and unique dining and beverage options.
You can rent a beach cabana as well. Please ask your Guru Travel Advisor for more information.
There are also loungers which are first come first serve.
We had a blast visiting the different bars, (loved the Martini Mix) and also seeing the nightime show. We loved the Michael Jackson Show. In addition, something neat is that they guarantee sports events. You can watch the most popular North American and European sporting events in SCORES Sports Bar and Lounge. Food is great there as well!!  In addition you will be showered with activities such as non-motorized watersports and even an introductory scuba lesson.
Are you into fitness? No worries,they have an amazing gym as well as yoga and fitness classes by the pool. When you are in Diamond Club you can take advantage of one day at the hydrotherapy spa, it was really nice!!
We will be back! This is a fantastic resort! My besties want to come back again and we do not repeat resorts, so if that tells you anything..haha. Everything about this resort is great, it is clean, food, beverage, and service are stellar. If you are an adult looking for a solo trip, couples trip or a group trip, I highly recommend Royalton Chic Cancun Suites.
We would be honored to help you plan your trip. Contact us today at letstravel@thewdwguru.com or by calling 630-776-8371.