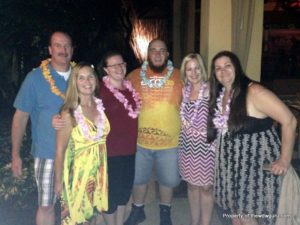 Recently the Gurus spent a wonderful week at the Universal Orlando Resort. Thank you to Universal, we were able to sample many of the special events and features on Universal property.
We had the pleasure of attending the Wantilan Luau at Universal's Lowes Royal Pacific Resort. This luau was simply amazing! The entertainment was spot on, the food was delicious, and the attention to our party with food allergies was outstanding!
I have to admit, I did not expect much here. This is because I am not really fan of shows, they take too long, the food is dry and the entertainment is usually cheesy. I could not have been more wrong here.
Another thing that thoroughly impressed me was the attention to detail with our food allergies. We had a tree nut and gluten allergy traveling in our party. Immediately after seating the chef came to our table to confirm the allergy and to take both travelers to the buffet where he could show them how the food was labeled. The food was even situated in a way the kept certain items away from one another..the general public would never know. Each item had a place card the was labeled for the allergy. We loved that our server came to the table with the one and only dessert that was gluten free and gave our traveler a plethora! He said that they always run out and he wanted to make sure she had enough. It made her smile and made us know that we were cared for.
Not only was the food delicious but the service was outstanding and the entertainment was long enough to keep my attention and I did not feel it was dragged out with a cheesy story-line..they stuck to the dancing which was really what we came to see.
Here are the details: 
Sit back and experience an evening of authentic Polynesian food and entertainment at the
enchanting Wantilan Luau, a weekly Hawaiian dinner show featuring an all-you-can-eat buffet of Polynesian specialties, live Hawaiian music and traditional hula dancing. Hula and fire dancers delight the audience and entice a few to even learn the hula!
COST
Adults: $70** Priority Seating | $63** Regular Seating
Children (ages 3 – 9): $40** Priority Seating | $35** Regular Seating
(ages under 3 complimentary)
Price includes gratuity, non-alcoholic beverages, wine, beer, and Mai Tais!
Registration begins at 5:30 pm. Seating begins at 6:00 pm.
Are you ready for your Universal Orlando adventure? Call us today at 877-825-6146 or click below to request a quote! 
[ale_button url="https://thewdwguru.com/request-a-quote/" style="light-blue" size="large" type="round" target="_self"] Request a Quote [/ale_button]
Enjoy our photo-gallery. (click to enlarge)