My husband Eric and I were treated like Rock Stars on last week's cruise aboard Virgin Voyages, Scarlet Lady. I'll let you in on a secret…its not because I am in the travel industry, or Eric is turning the Big 4-0, everyone aboard has top-notch service!
Let me give you a backstage pass to our experience aboard the ship and as Mega Rock Stars on our 4-night Voyage which included stops at Key West and Bimini.
What makes Virgin Voyages stand out?
It's an Adults Only Cruise- all the time!
Voyages are competitively priced for every type (Sailors, Rock Stars or Mega Rock Stars)
There is no tipping!
Fitness Classes and top notch gym (not an extra cost)
Dining is smaller and intimate
The traditional buffet area transitioned to food court with sit down service
The Scarlet Lady is new and world class- very tech and eco friendly
The Band is a must have sailor accessory while on board
Virgin Voyages has a private resort area in Bimini, Bahamas
Scarlet Night…
The VIP treatment stated before we even left home- a couple weeks prior we had a call with a Rock Star Agent who went over from what to expect the day of the embarkation, to what bottles we wanted for our cabin's "not so mini- mini bar". We knew this vacation was going to be like no other.
We had stayed in Miami the night before and that was the pregame for the voyage itself. I had a Bucket List item in Miami, Versace's Former Residence in South Beach. We were not only able to take our pictures outside but lucked out with primo seating on the patio for lunch!
We walked the beach and then toured the city before getting ready to be picked up for our cruise.
While others were calling their local ride share app, we had a driver ready to take us to the port. As Mega Rock Stars, there are many perks, transfers to and from the port is one of them!
At the port, porters took our luggage, Eric and I were guided to a backstage entrance for Rock Stars. The check in process was effortless, we received our "Band" which was our lifeline for the next 4 days. Within 20 minutes, we were checked in, thru Security and sitting in a special area for Rock Stars to board.
The first thing we did while waiting was to connect to the ship's app. Virgin Voyages are committed to being environmentally friendly by being paperless where they can. The app had everything- happenings around the ship, places to make reservations for dinner, spa and entertainment on board. As Rock Stars, once boarded there are Rock Star Agents that help with all your reservation needs.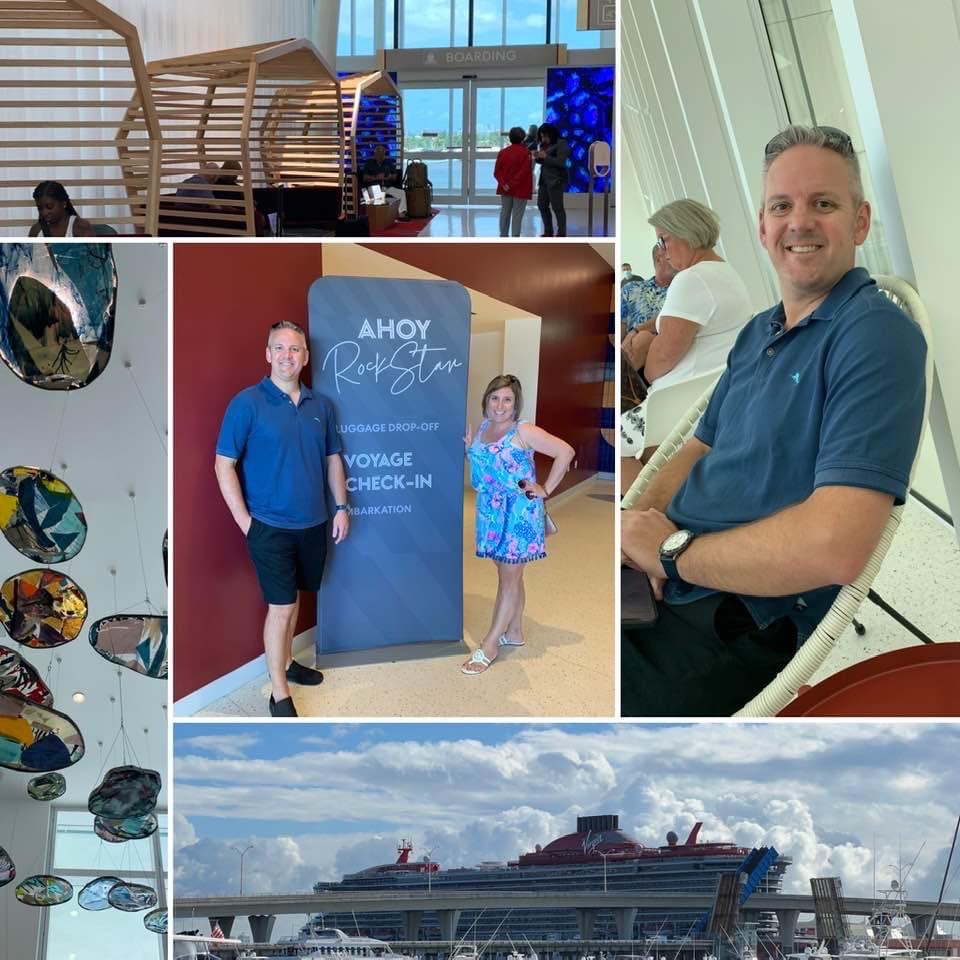 It was finally time to board! We were amongst the first on the ship! There was a champagne welcome in The Manor for all Rock Stars, but since we were Mega, we could head right to our cabin to meet, Mimi, our very own Rock Star Agent for the voyage.
Mimi greeted us at the elevator and showed us to our cabin. We definitely were living the suite life for the next 4 nights. It was more of a hotel room than the standard cabin we have been in the past. Mimi walked us thru all the amenities. We had a marble bathroom, king size bed, sofa, full size bar, turn table with some vinyl, and a very large balcony with 2 loungers, a bistro set and hammock. Yep, we felt just like the title, Rock Stars!
Next, our Rock Star agent asked us if everything was to our liking, went over the dining reservations and show/event reservations. This is one category where you don't have to lift a finger, all of the reservations just happen!
We had the usual muster drill, and it was time to party! Another perk included as Megas was the bottomless drinks (anything under $25 was included) and Access to Richard's Roof Top. It was nice to be able to try different drinks that I may not usually try with a scan of a band. For those not Megas, don't worry Virgin offers perks for those who purchase pre-paid bar tabs.
Richard's Rooftop was a very posh. It's a spacious restricted area for Rock Stars with sofas, daybeds and whirlpools. We found the rooftop heavenly, especially on the at sea day when the pool decks were full, the spacious rooftop never made you feel like you were part of the mosh pit.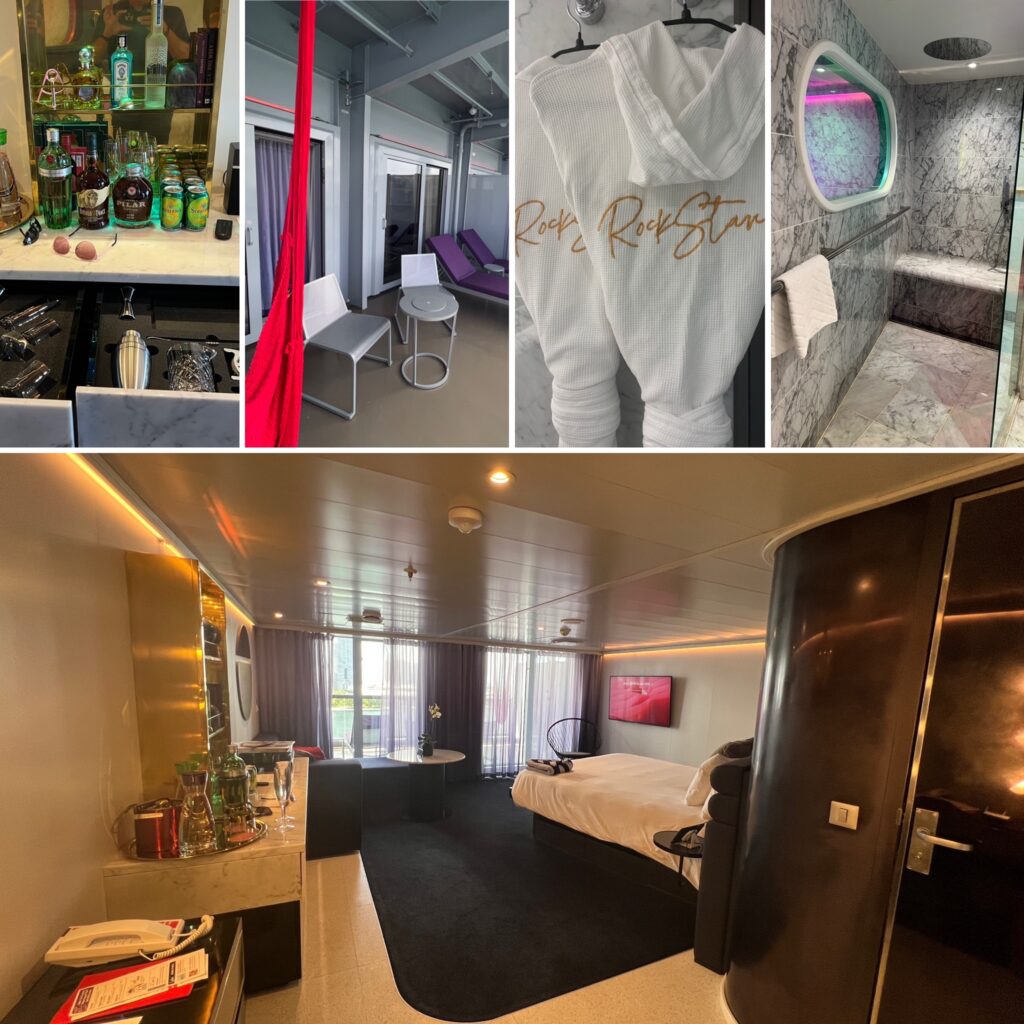 Throughout the 4 nights, we ate at some amazing places and items I may not have tried if not on the cruise. Virgin offers reservations and then waitlists for the restaurants. They have The Galley (more relaxed food court atmosphere) if dining is not available elsewhere or you want a quicker bite to eat.
Places we tried:
The Dockside- Quick Bite- Light tapas menu
The Diner- Quick Bite- Hot Dogs, popcorn, pretzel, wings and boozy milkshakes
Extra Virgin- Italian- Pasta, steak, seafood, dessert, what's not to love!
Razzle Dazzle- American- Vegan- We found everything was great! Frittatas, fairy toast and churros.
Lick Me Til' Ice Cream- amazing gelato, orange ricotta was a favorite
Pink Agave- Mexican- Steak, Mexican street corn, homemade guac and chocolate peanut butter tacos.. and Tequila Old Fashioned made with chocolate bitters!
Gumbae- Korean BBQ- Food was good but not my overall favorite, met new friends as we were paired with other couples. We did learn a new drinking game as an ice breaker… 3,6,9!
The Wake- American- Breakfast- avocado eggs benny and pecan banana french toast
Test Kitchen- by far the most unusual but so cool! Here the chef a prepared menu and courses are listed on the menu as a single ingredient.
The Galley- Quick Bite-We sampled paninis breakfast anytime, burgers, sushi, and ramen. All were great, just more causal.
Pizza Place- this was our late night snack!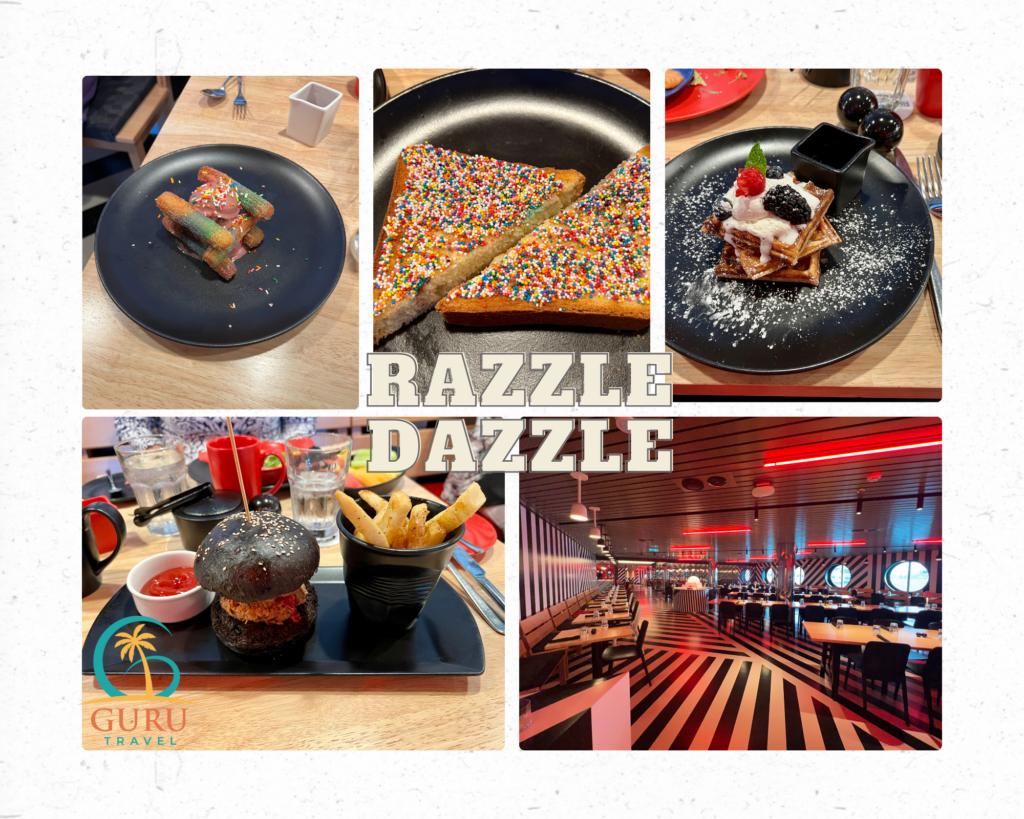 Entertainment around the ship was great! They have a Happenings Crew of 13 who replace the traditional Cruise Director. Each have a niche area and a lot of fun, when they are in sight, you know there is a party nearby. Without giving away too much detail, there were 3 shows and Scarlet night on our sailing. It's better to be surprised, but do not forget to pack your red!
Virgin Voyages have the motto, come as you are. If you want to stay causal the entire cruise or if you want to dress up, it's up to you!
Eric and I did enjoy some high energy areas on the pool deck parties as well at the Beach Club with the pool float party. We also found time to be Zen. Although we did not have spa treatments this time, we took advantage of the Thermal Spa access we had as Megas. We could visit this area as much as we wanted- it had a sauna, salt room, mud room, heated seating to lounge, hot tub and cold tubs. It was a great way to escape the heat in the afternoon. Another great Zen area was the Rockstar Quarters at Bimini. This is an area to the far side of pool, with a bar, beach chairs and day beds just for the VIPs.
Virgin understands sailors need their beauty sleep to be in ship shape, so disembarking is very different than other cruiselines. On the app you set up a time to disembark, and the latest last call is 11am. Now that's a lot different than our other 6am wake up calls on the last day!
Every rock star has an encore, and we did just that by placing 2 placeholders for our next Virgin Voyages. We don't know where we will be sailing to next, but we know it will be epic!
If you would like to learn more about how you can party like a rockstar, contact me, Patty Uram at Patty@thewdwguru.com or 734-531-9677. There are some amazing incentives from Virgin Voyages for all cabins and I would love to help you plan!
Note: this was not a promotional trip and sailed the seas as a traditional sailor.