Jen Dix is a teacher-librarian, mom of 3, and Travel Advisor with Guru Travel.  She traveled with one companion.  Jen is a first time cruiser, Disney Addict, and self proclaimed koala… needs all the sleep.  They did a mix of Disney excursions and private excursions to experience both Alaska and what it would be like with an external excursion.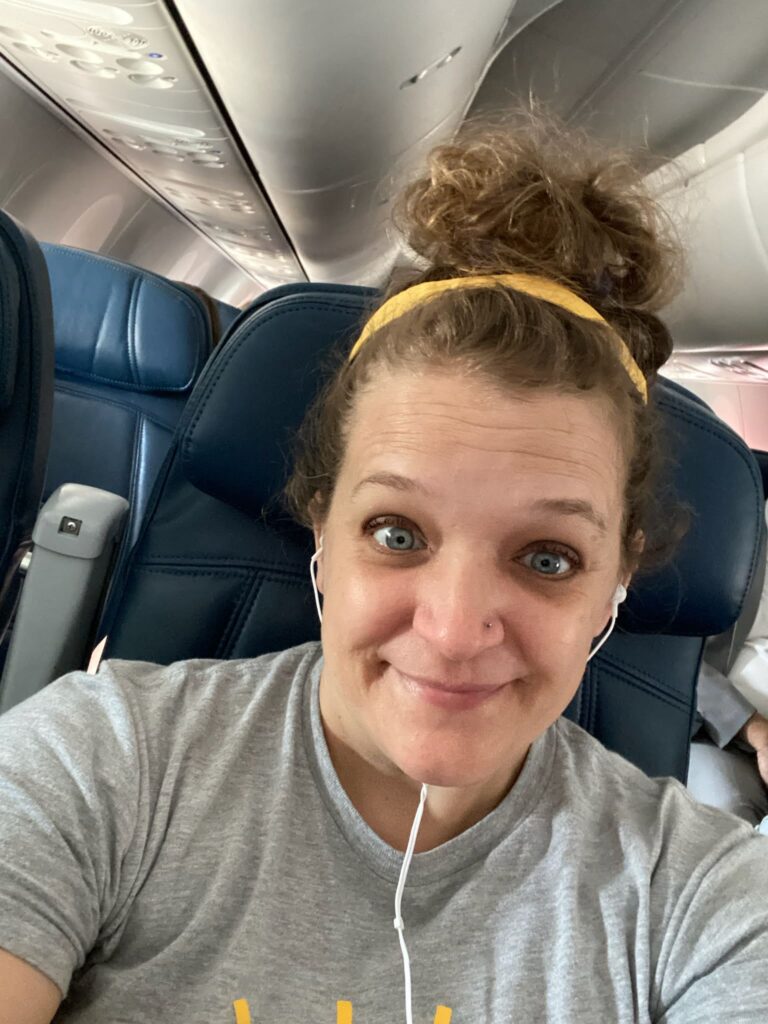 June 4
EARLY EARLY EARLY flight from STL to MSP on Delta.   It was my first time flying on Delta, and I was pleasantly surprised.  I love that they had TV and Spotify in the seats so you could watch.  Did you know Delta offers Bischoff cookies for a treat?  That is a welcome surprise!  They are so yummy.  Delta also gives you headphones to listen to the entertainment.
There was a layover in Minneapolis before continuing on to Vancouver.  
The Vancouver airport has a beautiful entrance and welcome area.  I wish I would have taken more photos.  The struggle here was customs/ immigration.  It wasn't bad, but it was confusing. There was not a good and logical flow.  You stood in line and waited for a kiosk.  After you used the kiosk, you stood in another line to be seen… but the line was weaving through the kiosks!  Just confusing.  But not a huge deal.
We opted to Uber to our hotel, and that was better than trying to take a taxi…  We were in the car and driving to the Pan Pacific hotel within 4 minutes of going outside.  
Pan Pacific Vancouver is situated conveniently at the Port and right downtown.  We were within walking distance of so much to do in Vancouver.  After checking in and dropping or luggage, we headed to Boulevard Kitchen, a restaurant in another hotel a few blocks away.  Their Happy Hour featured $2 oysters and aperol spritz.  No trip to Canada is complete without visiting Tim Hortons, so we grabbed some Tim Bits and headed back to the hotel for the night.
June 5
We woke and wandered down to look at the ships that were docked.  We also learned some interesting ways to social distance!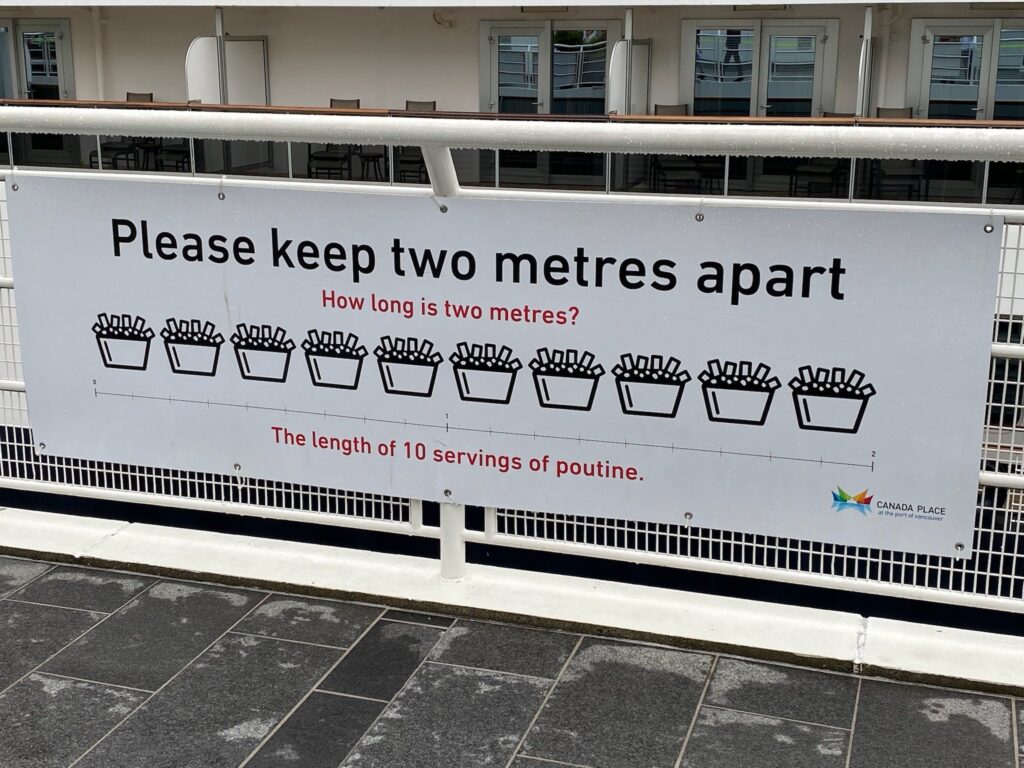 After consulting with the Visitors Center folks, we opted for a ticket to the Hop-on Hop-off bus ($59 CAD).  This is a closed loop that takes you around the city.  I didn't know we would have a tour at the same time, so while we were on the bus, the driver was telling stories of Vancouver.  
Did you know that all new builds downtown must contain planting/ greenspace and a water feature???
We hopped off at Stanley Park, and took the trail to the Vancouver Aquarium.  ($40 CAD)  It was a nice aquarium featuring different marine habitats.  We accidentally stumbled onto the Sea Otters at feeding time.  That was such a treat!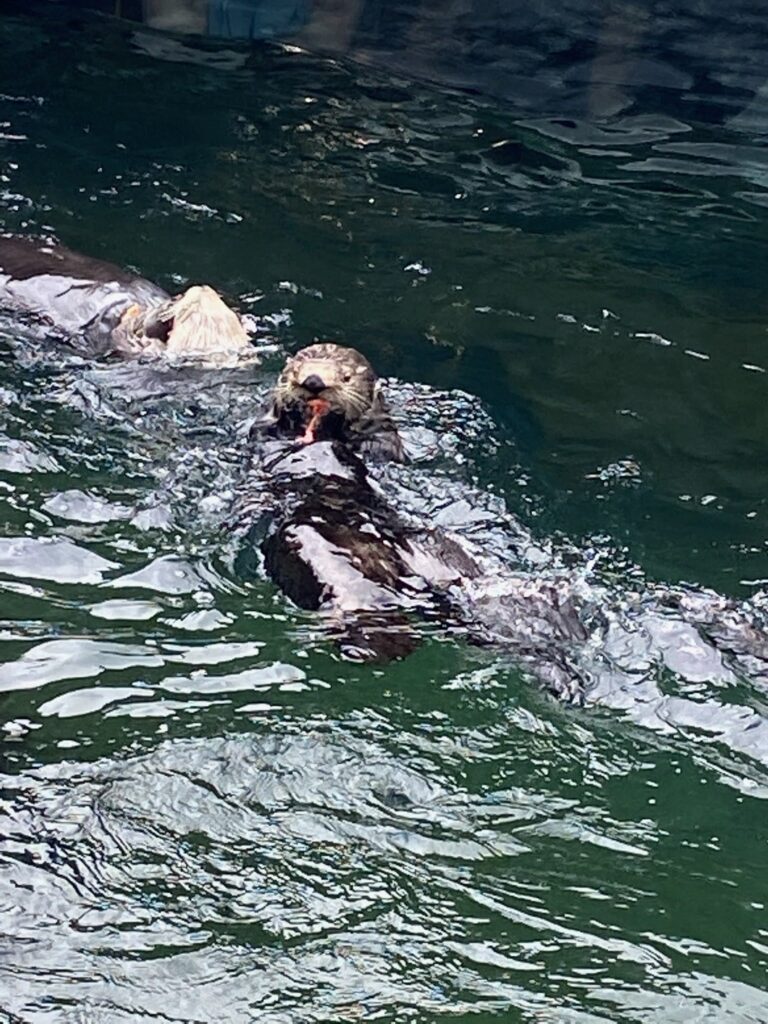 We continued the loop, getting off at the Granville Island Market… where artisans and farmers sell their products.  We enjoyed Macarons from a bakery as well as some Clam Chowder Pot Pie.
Continuing the loop, we saw the Vancouver Library, got near to where the Canucks play hockey, and saw the Steam Clock in the Gas District.  
We headed across from the hotel to Mahoney's, a pub, where we enjoyed fish and chips and then walked along the waterfront before heading back to bed.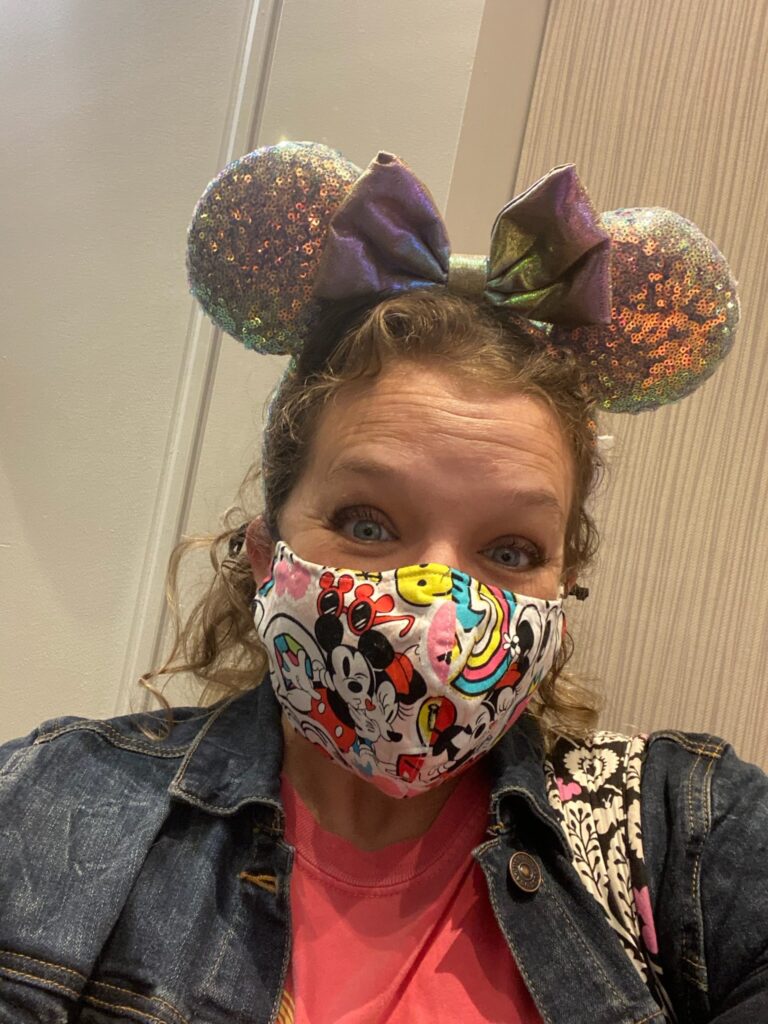 Monday June 6
Embarkation Day!  We saw the Wonder pull into port and our excitement rose!  This being my first cruise, I didn't know how I would stand waiting… but the time really went quickly.  We were able to have Bell Services from the hotel deliver our bags to the ship, so we didn't have to deal with them at all.  We were still testing at the port, so we got in line to test and waited.  That was a horrible chunk of time… waiting!   But it was fine.  Thank Goodness!  
Check in was easy, and we were welcomed onto the ship.  I *might have cried!  It was so incredible being welcomed by Minnie.
Muster is virtual, so they loaded us all into one of the clubs to connect to the wifi and then we were off to go to our muster spot.  
We were sent to Cabanas to eat lunch and then kind of wandered the 9th and 10th decks. By the time we finished lunch our luggage was at our room when we went there at 2:30.  We met our Room Attendant, and chilled until we left the port.  I went shopping the first day, after hearing that some merch sells out… I DID get an ornament… I did not get a Wonder Spirit Jersey *sigh.
Our first dinner was at Tiana's Place.  We immediately fell in love!  There was a piano player and a bass player, and Tiana would make an appearance now and then.  We had second seating for dinner, and I can't complain.  We always had all day to explore or chill.  Before I went to bed, I started marking ideas for the upcoming days on the ship.
Tuesday June 7.  Day at Sea
I wish I could say we were up super early and doing all the things, but this tired momma and teacher just enjoyed sleeping in.  We did eat at Cabanas buffet for breakfast.  We were late enough that it wasn't crowded.  I went to a D23 presentation, and a Shopping Presentation.  I always want to go to trivia, but sleep called me.  I read on my verandah, and we chilled through out the day.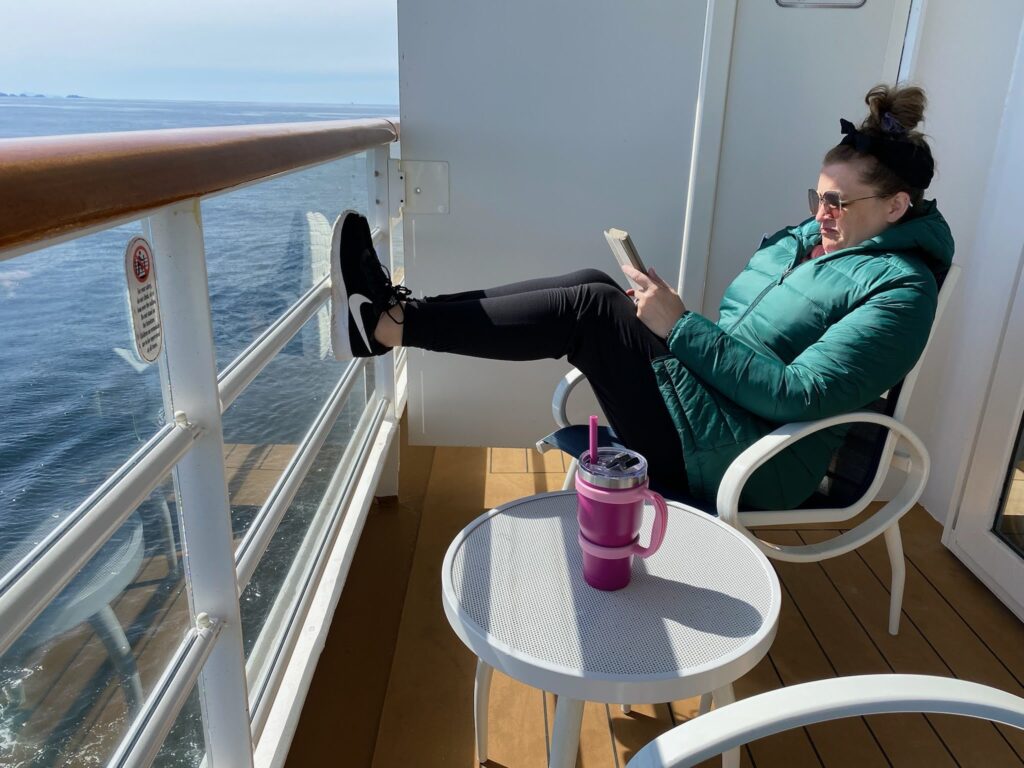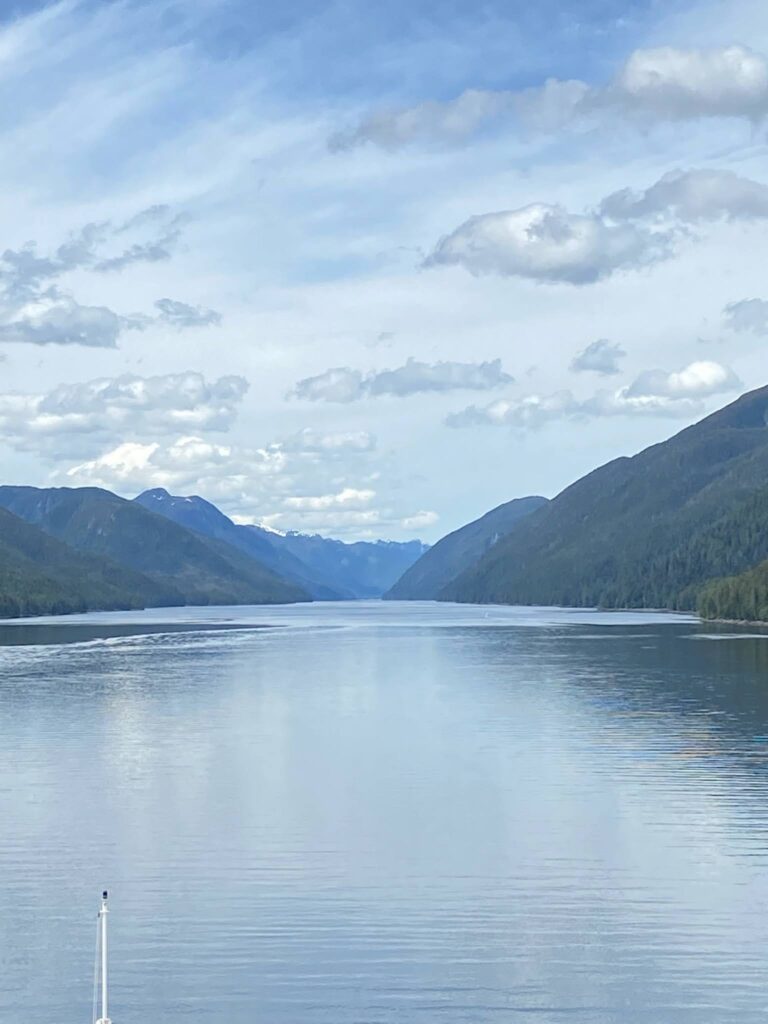 The views were incredible!  We say snow covered mountains and evergreen trees the entire trip!  It was just breathtaking!
This night held our first show… The Golden Mickeys.  We were not as early as I intended, so we didn't have the best seats.  It was an ok show… and was a nice activity before dinner.  We ate at Triton's for the first time.  We were moved by our dinner hosts to a better table looking out a port hole.  Did I mention how beautiful Alaska is?  Or maybe that was still Canada.  Doesn't matter… STUNNING!!!  Tritons is the "fancy" restaurant on the ship.  There is a ceramic mural of Triton on the wall, and Sebastian holding the sconces.  Our servers had our wine ready at the table, and cokes waiting as well.
Being as I am a koala we went back to the room and went to bed… after walking the deck a little bit.
Wednesday June 8 Dawes Glacier
We bundled up before breakfast and ate a quick bite before heading to the bow of the ship.  I think we stood there by 10:30 watching for the glacier and icebergs.  I was amazed at all of the waterfalls you could spot and the resulting salinity line in the ocean.  The wind was incredible as was the chill.  I am a koala but I am also an orchid… very temperamental when it comes to temperatures, but I managed… *could have been the 2 pairs of pants and 3 layers of outerwear I had on.  I was THRILLED when they set up Base Camp in the sports venue… hot cocoa, coffee, cookies… and for the adults boozy cocoa and mulled wine for a fee.  These plus blankets from the pool area helped us stand there until we got as close as we were going to get to the glacier.  While we were there, the captain mentioned a pod of whales… and we got to see the dorsal fins of some Orcas!
The blue of the icebergs and the glacier was something un-real.  I don't think it would be possible to replicate that color!  Unfortunately, the ship could not get very close to the glacier so at the last minute, we re-booked the excursion to get closer.  Like with 10 minutes to spare!  
We collected in one of the theaters, they gave us a sticker to indicate our group, and we waited to be called.  Ours was the second ship.  The boat held about 50 people I would imagine maybe more, and it got us much closer to the glacier and we wove in and out of icebergs with seals on them and visited a waterfall before finally returning to the ship.  As we were leaving the boat, I saw their commitments on the wall… they have a code to help protect nature and wildlife… including idling quietly and avoiding getting close to wildlife. I found out earlier that the ship doesn't do funnel vision movies when at the glaciers or at parts because of respect to the environment as well.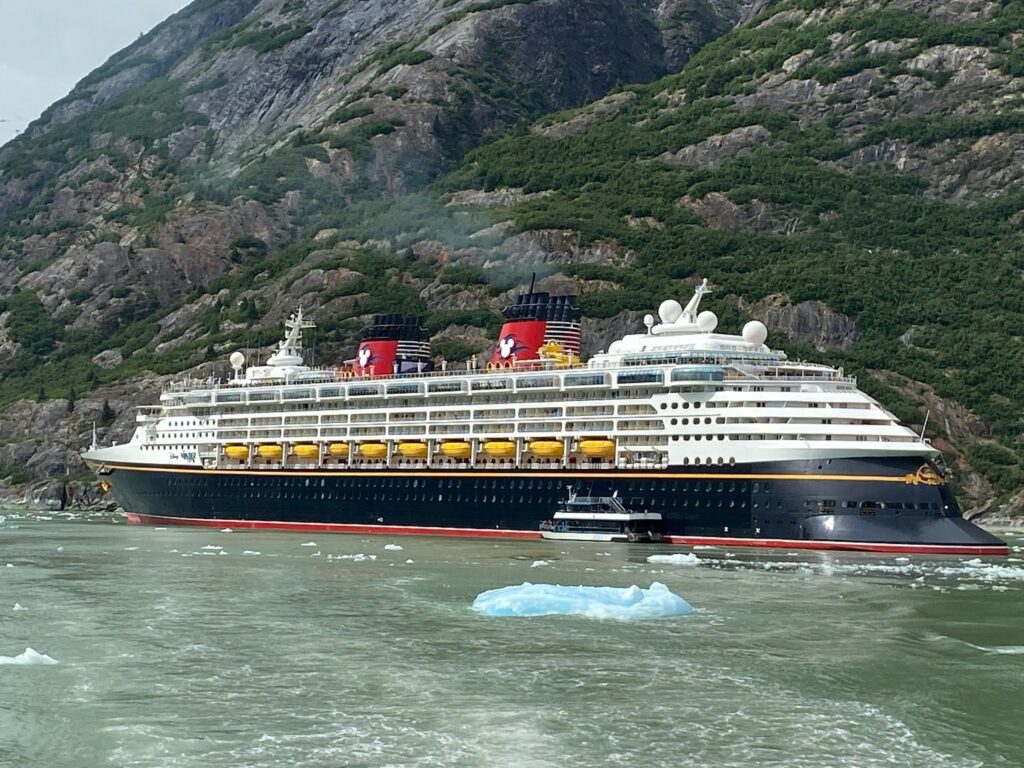 This night's entertainment was a Frozen party outside on the pool deck stage.  Kristoff, Olaf, Anna, and Elsa all made an appearance.  We repeated a meal at Triton's, but it was a different menu… this one had a nordic or arctic theme.  I think it was this night that i ordered one dessert… and my waiter said "That's it?  Just one?"  I guess I became known as the girl who ordered too many deserts.
Thursday June 9 Icy Straight Point/ Hoonah
We debarked early in the morning at Icy Straight Point to rendezvous with the tour we signed up for.  We booked a Whale Watching Excursion through Alaska Port Adventures because the Disney one was sold out.   We took a bus to Hoonah while our driver gave us some history of the small town.  Our Captain, Phill of Hoonah Travel Adventures, was all around Mr. Hoonah… he did all of the things in town, as well as drove the little vessel to take us out to see whales.  I would say that this was the most informative trip!  We learned so much about the town, and living there, as well as wildlife.  Although it was a whale tour, he spotted a bear for us and we saw many many sea lions as well as multiple humpbacks.  Before getting on the boat, we had arranged to do a bear tour after, but decided to go back to the ship.  We went back via Icy Straight Point, which is the tourist area that was actually created by a cruise line to fancy up the port.  We choose to eat lunch on the ship and nap… because… koala.  After, we debarked again and wandered the shoreline looking in the tidepools and among rocks.
We chose not to go to the show that night… a comedian.  Instead, we cleaned up and chilled on the verandah… apparently snuggling with cocoa and a book in the cold in your coat is just an amazing experience.  Oh… I forgot to mention Cocoa!  The 9th deck had a drink station that had cocoa and tea as well as soft drinks.  It was easy to just get some warm drinks to snuggle with.
Thursday's dinner was at Animator's Palate… finally!  It was such a fun atmosphere and immersive with the pictures on the wall changing.  I loved trying to guess what the drawing was going to be. We had a surprise visitor to end our meal.  
We decided to go to the theater late that night to see Dr. Strange.  We filled up our cups with drinks, and cuddled into blankets.  The theater was kept cool, so I was glad to have it.
Friday June 10 Juneau
This excursion was the one I had been waiting for!  THE PUPPIES! We slept to the last minute, and met the Port Adventure Team in the Azure club for our morning excursion.  There were many excursions meeting at the same time in the same room.  Again, we were given a sticker to tell us where to go and to indicate which excursion we were on.  We just did Sled Dog Summer Camp in a Valley.  I chose this for multiple reasons including… price, activity and safety level, and to accommodate my pooh sized companion.  I do not regret it at all.  We debarked into real Alaska weather… cool and rainy.  A young driver from the lower 48 drove us up to base camp, pointing out sites of interest… poisonous plants, indicators of healthy air, and notable buildings on the drive.  At Base Camp, we learned about the sport of Sled Dog racing, learned about sled dogs… and even got to ride on a large cart that was pulled by a team of dogs!  Tourists going there help mush teams from the lower 48 train in healthier conditions for the dogs.  The highlight was the puppies!  I got to hold a sweet sweet puppy named Bacon.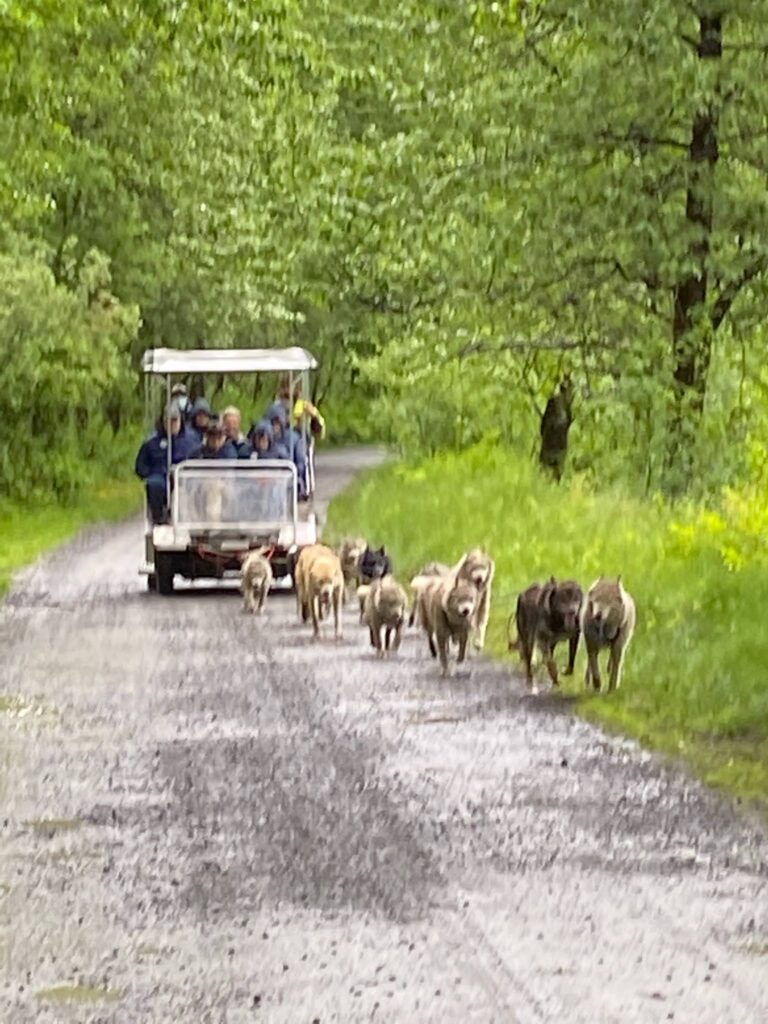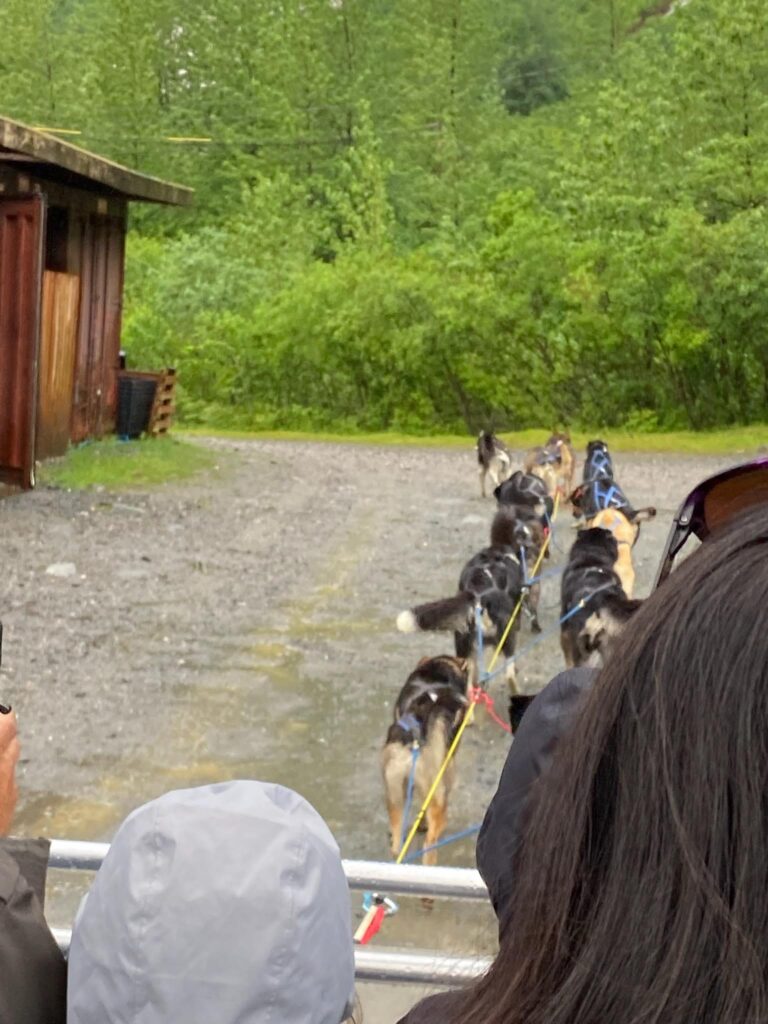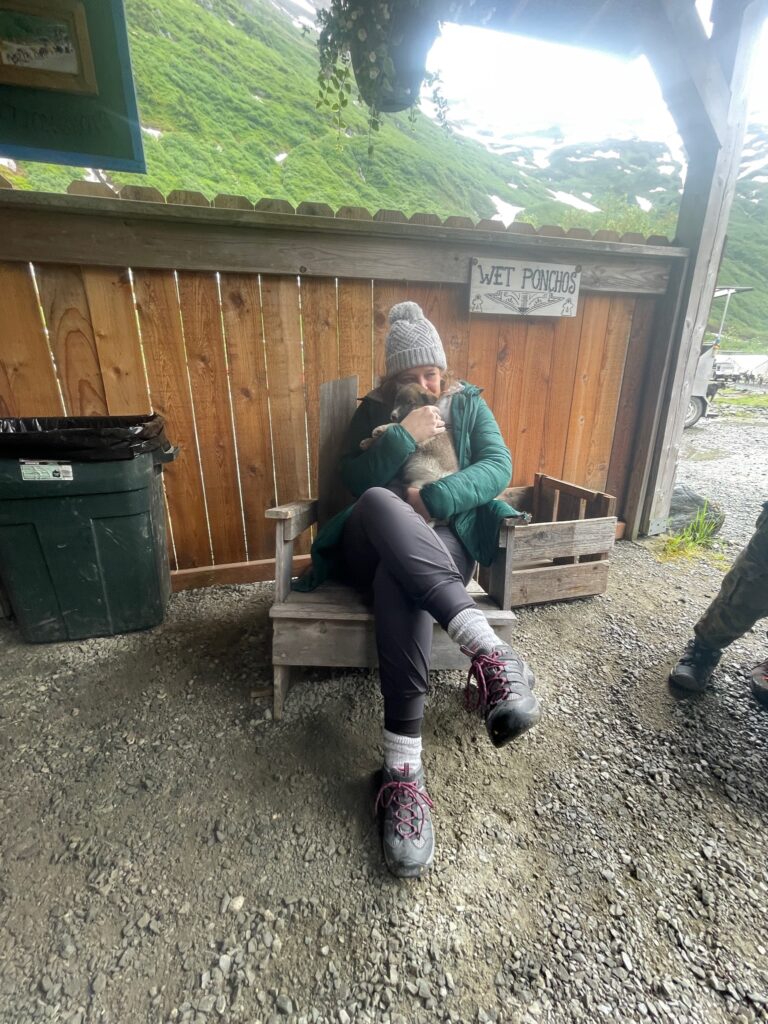 This koala needed a nap, so after the excursion, we went back to the ship… ate and took a lovely nap before debarking again… this time to take the free shuttle to town.  There, we bought a ticket to go to the Mendenhall Glacier.  This may have been the most breathtaking part of the trip.  The natural beauty of the park and the glacier were beyond comparison.  Unfortunately, due to some physical issues, we did not do a long hike to the waterfall, but we were able to enjoy its beauty.  It is hard to believe that this miracle of nature is just a few minutes from a city!!!
We attended the 6:00 showing of the stage production of Frozen before dinner back at Tianna's again.  There was a Mardi Gras theme, and that was fun!  It included beads, music, and a parade.  This night, we decided to catch some music in the evening… so we listened to the pianist for a bit before going to bed.
Saturday June 11 Ketchikan
Yesterday while at Mendenhall, I received a call from my tour company that due to weather my excursion would be canceled.  They offered to let me switch to a different boat ride, which I agreed to.  We debarked and walked through a crowd of vendors offering tours. I wish I would have not re-booked, but taken one of these.  Basically we drove around for 2 hours just us and a captain who isn't from Alaska in an inlet of water.  We never saw any type of animal, but we did learn more about Alaska, so that was fine.  He dropped us off at a different dock… one that was closer to all the things.  We grabbed tickets right at the last minute for the lumberjack show and grabbed our seats.  After, we walked around town, and ate at one of the fish markets.  We enjoyed looking at the Totem Poles around Ketchikan, but I think our favorite was the museum.  We learned about the Red-Light District… about signatures on table cloths and life in Ketchikan throughout the years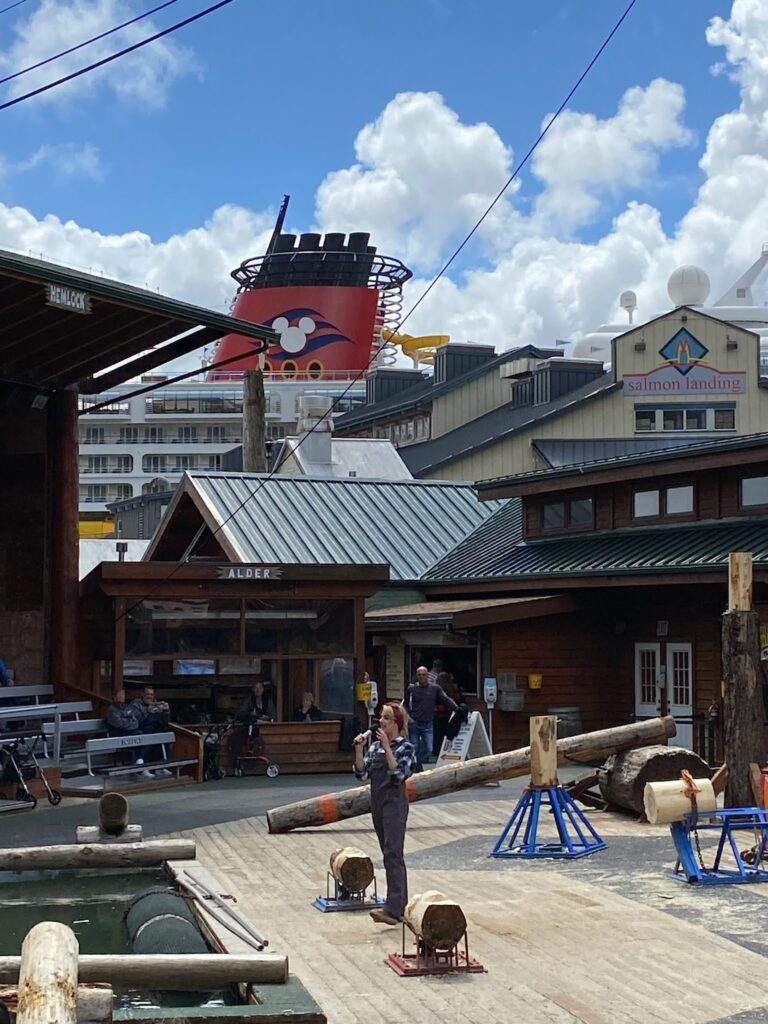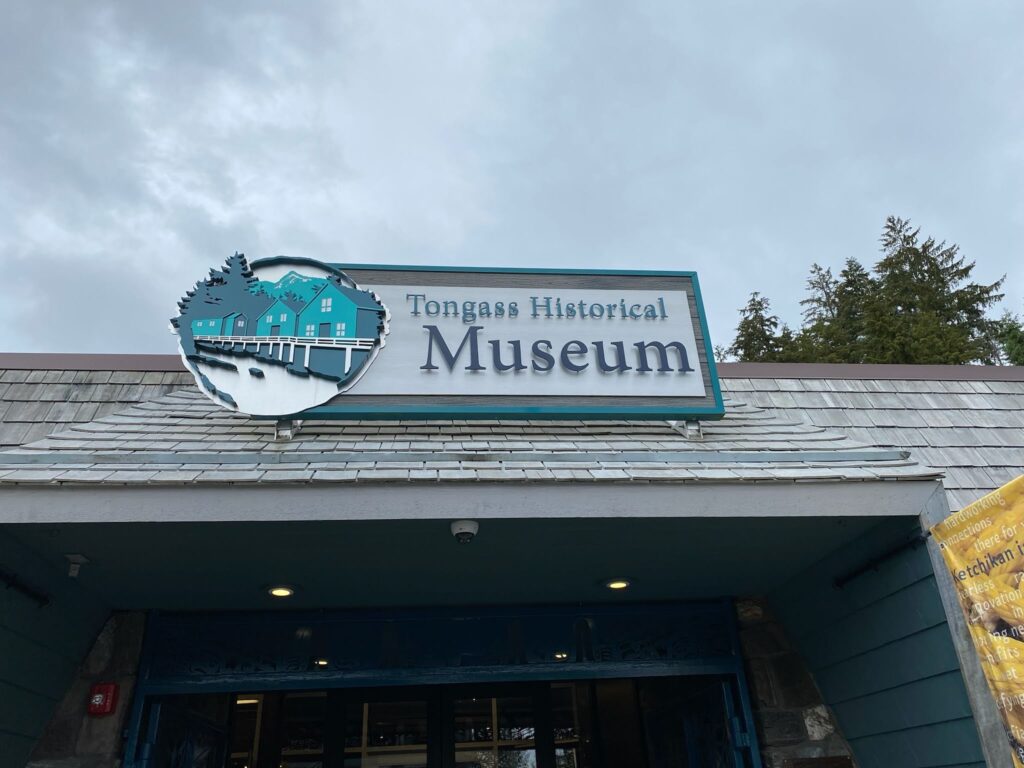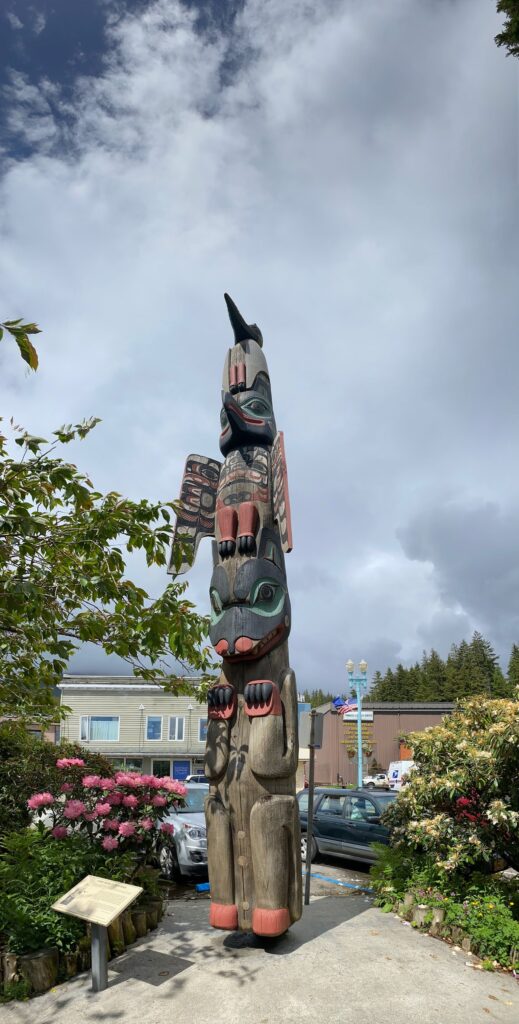 Sunday June 12
This was our final day at sea.  I was NOT ready for it to come to an end.  The experience was so relaxing and incredible.  It was full of beauty and fun… joy and peace.  BUT… it wasn't over yet!  Today we watched a movie on Funnel Vision (wrapped up in blankets and bundled in coats and hats).  I read on the verandah.  I am pretty sure I took another nap.  While eating lunch at Cabanas, we saw another pod of Orcas!   RIGHT OFF THE SHIP!!!
I got involved with packing and missed the live show, but I am glad I packed before dinner, so I could just sit and relax and enjoy dinner.  We were back at Animator's Palate.  This time we had to draw a person within a given frame.  Throughout dinner, they compiled our people into an animated show.  I thought it was going to be so dumb, but it really made me laugh and smile!!!
Monday June 13
We ate our breakfast at Animator's Palate.  Fortunately, we did not have a flight to catch, so we just chilled out and actually enjoyed our breakfast and fought the end of vacation blues.  We got to say final goodbyes to our servers and then headed out to wait for our group to be called to debark.  
There was a MOB of people all throughout the terminal trying to find their way to their transportation.  It was a mass of humanity.  Luckily, we just had to go upstairs back to the Pan Pacific Vancouver to check in.  We were fortunate that our room was ready, so we dropped out luggage, and then set off into Vancouver again.  This time, we went to the Capilano Suspension Bridge.  We took the free shuttle there.  There was a fee to get in ($59 CAD), but the grounds were beautiful.  Wait until you read the story of the grounds!  The suspension bridge was long as unstable, as I am sure you'd imagine.  But once across, the beauty of nature makes it all worth while.  Vancouver is in a Temperate Rainforest… lots of ferns and cedar and hemlock trees.  I think I have fallen in love with the Temperate Rainforest!  There were wooden paths to walk on and a tree walk as well.  The only bad part is you have to CROSS BACK OVER THE BRIDGE!  We rewarded ourselves with poutine for being so brave… and then we took the shuttle back to the hotel.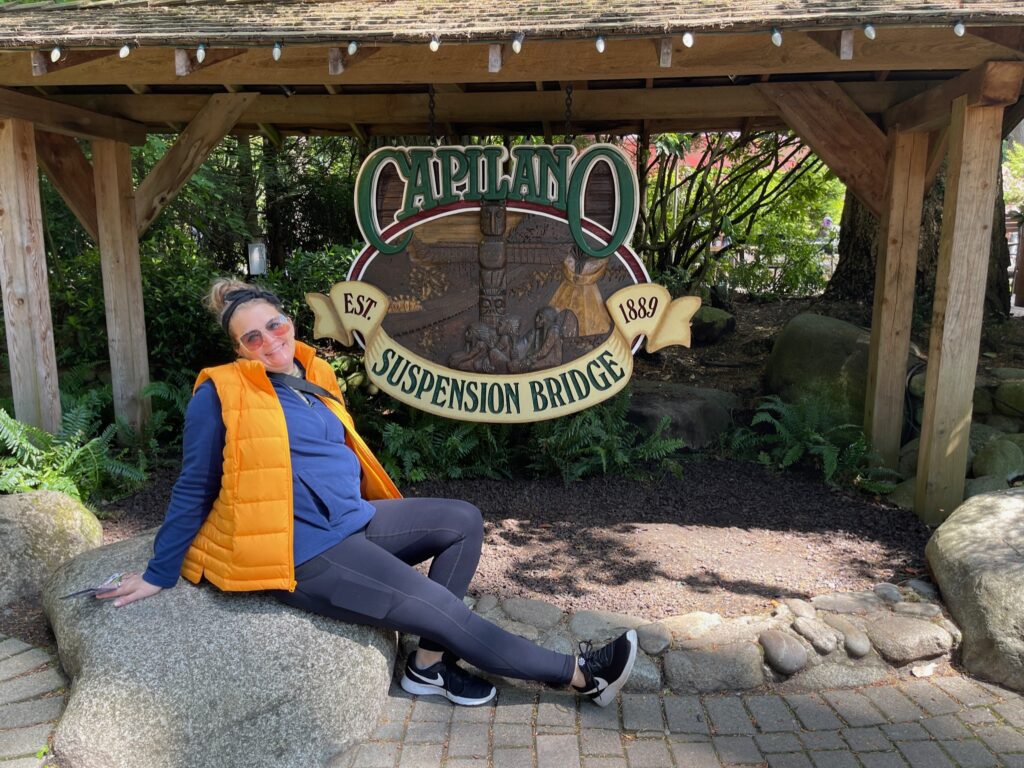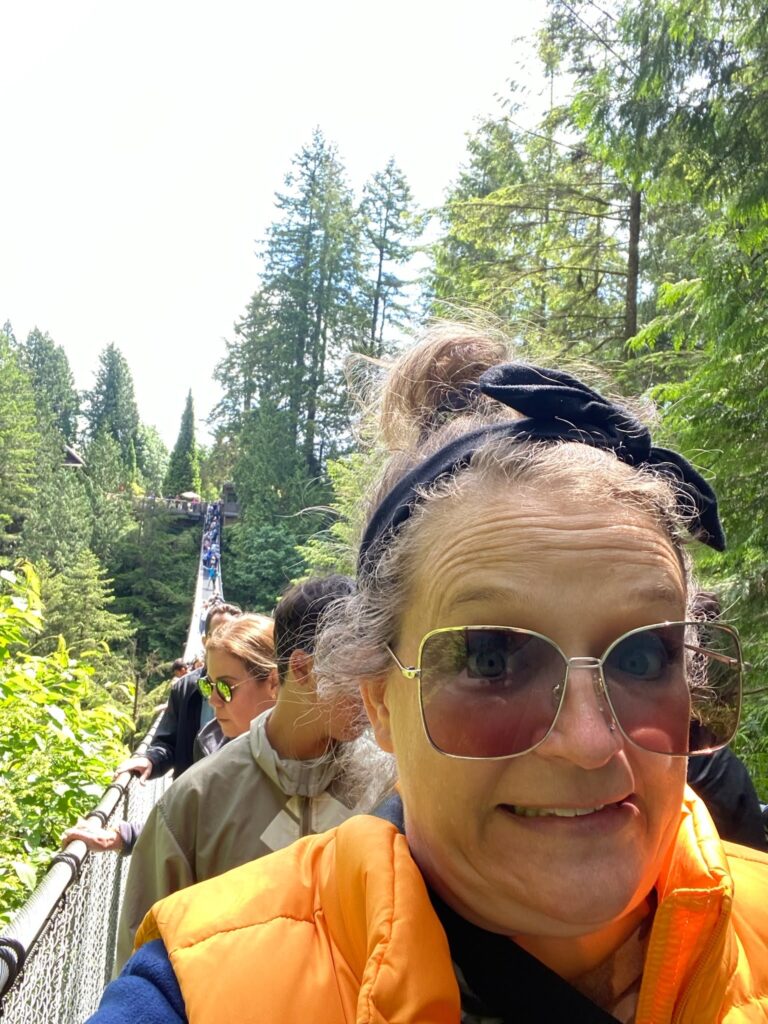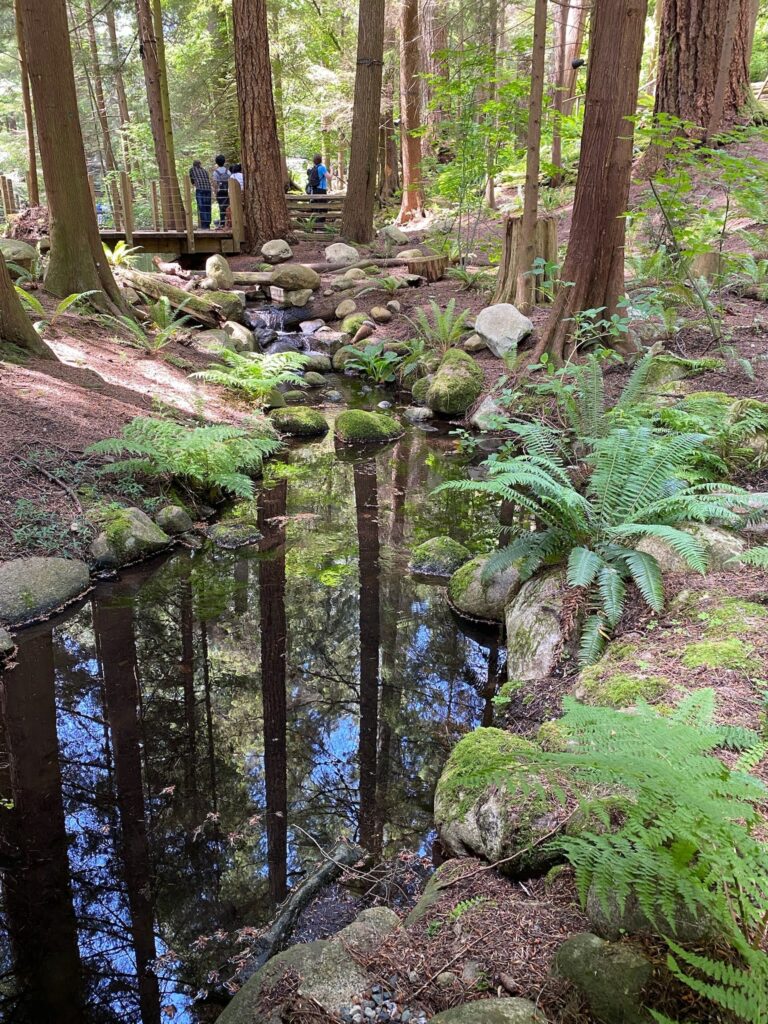 Believe it or not,  I didn't take a nap!  But I did read a bit and we watched the Wonder pull out of port to begin her next adventure.  We walked a few blocks to Steam Works Brewing Company, where we had the best and largest pretzel we ever had seen in our life!!!  It was served with a dill mustard.  We walked a bit after dinner and found ourselves in front of the steam clock.
Tuesday June 14
We chose to uber back to the airport.  There were several steps involved in getting on to the plane… including dropping off our luggage not with the desk clerks.  It is important to note that if you have Global Entry you can use it to bypass parts of the line … you go through customs in Vancouver to return to the US!  This saved us some time, and made us very happy.  Our flights were uneventful, and we made it home safely.
The beauty of Canada and Alaska have captivated me.  I am anxious to go back… both on a cruise and on a land vacation to continue to explore The Last Frontier.