I was invited to set sail on the magical preview sailing on the Disney Wish from 7/10/2022-7/13/2022.  It is my pleasure to share my review with you. I am a Platinum Disney Castaway Club Member which means I have cruised with Disney more than 10 times. I have been on every Disney ship to date and except for the Wish, I have been on each Disney ship multiple times.
From the moment you step foot inside of the Disney Wish it is clear that Disney has done a complete redesign of the look and feel of the Disney Wish. The Atrium of the ship labeled the Grand Hall is grand!! You will notice at a first glance that there are not any elevators in site, your eyes do not deceive you. Disney got rid of the mid elevator bank entirely.
The Grand Hall really sets the tone for the look, feel, and experience you will have on the rest of the ship. The art deco feel you have come to love on the other 4 Disney Ships is no longer a thing on the Wish. You are fully immersed into the magical of Disney from the moment you set eyes on the Grand Hall, this is a continual theme throughout the rest of the ship spaces. For those who are into the story of Disney they will be fully impressed with all the details throughout the entire ship which makes up a beautiful tapestry of Disney art and display of all things Disney.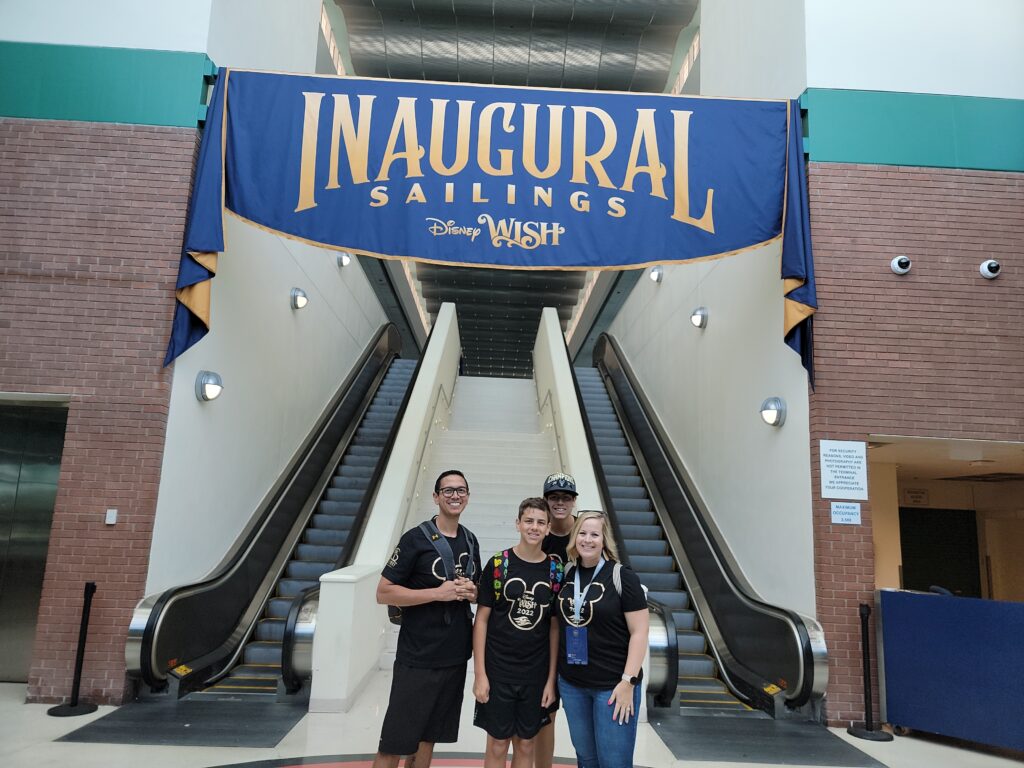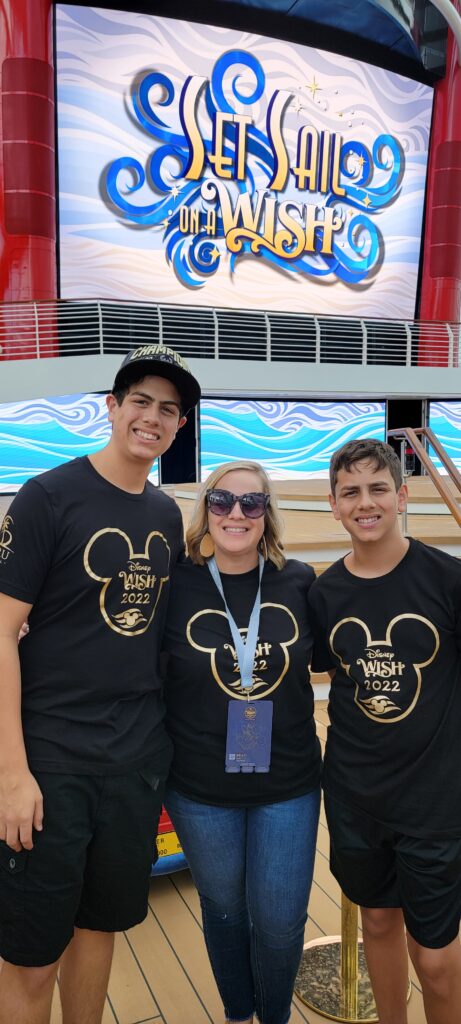 The layout of the ship is perhaps the most different from the other 4 Disney Cruise Line ships. Disney cruisers have become familiar with the zones of each of the ships. For example, kids, family, adult. Many avid Disney Cruisers will be surprised to see that the adult spaces are not tucked away in an area which feels remote from the rest of the cruise spaces except for the adult only dining options, Enchante, Palo and The Rose Lounge. The scattering of spaces is designed to improve crowds and flow which should make the ship feel less full.
When you enter the Grand Hall kids will be immediately thrilled to see the slide and staircase which transports them down to their dedicated club area down on deck two. There you will find the Oceaneer Club and It's a Small World Nursery.
Another noticeable difference is the pool deck and surrounding areas which take up decks 11, 12, and 13. These decks have a ton of scattered activities and spaces that Disney Cruisers have come to love and expect. While they are all still there it may take some deck plan study sessions to remind you of your favorite spaces. I love that Disney made the entrance to the AquaMouse slide a lot more accessible than before. Long gone are the days of you walking up flights of stairs to enjoy the ride. One place we struggled to find is Cove Cafe which is a long walk to the aft section of the ship with limited signage. The walk to the adult area is more of an exploration and it is truly hidden at the back of the ship.
Disney is known for creating a stateroom space within their ships which allows families to comfortably sail with the space they've chosen to call home. The Disney Wish has 1,254 staterooms, a large percentage of those offer private verandahs. There are 121 inside staterooms and they are standard, no more deluxe family inside staterooms. There are also 185 oceanview staterooms with large picture windows.
Disney did a wonderful job of bringing light into their stateroom spaces. You will see brighter lights, colors, and decor throughout your stateroom. The artwork throughout the staterooms gives a nod to Disney movies like Little Mermaid, Frozen, Cinderella, Sleeping Beauty, Princess and the Frog, Moana, and Tangled. You won't be able to request a specific theme, but the deck-by-deck guide will help you get a better chance at your preference.
Deck 2- Cinderella/Frozen
Deck 6-Cinderella/Frozen
Deck 7-Cinderella/Frozen
Deck 8-Sleeping Beauty/Princess and the Frog
Deck 9-Sleeping Beauty/Princess and the Frog
Deck 10-Moana/Little Mermaid
Deck 10 (Royal Suites)-Princess Aurora/Briar Rose
Deck 11-Moana/Little Mermaid
Deck 11-Little Mermaid
Deck 12-Tangled
Deck 13-Tangled
Deck 13 (Royal Suites)-Princess Aurora/Briar Rose
Deck 14/15- Moana
We are a family of 5 but for this trip we had 4. We immediately noticed the lack of storage in these new staterooms. We were able to put our luggage under the bed but the vanity area which usually made for an excellent space to our kids to keep their clothes was completely cut down in space and size. In addition, there was a lack of hooks which Disney is usually good at. This made room organization very difficult. In addition, the bathroom space had far less space to keep your vanity items as well, and there was a lack of cups in the bathroom to hold toothbrushes and make-up brushes.
Otherwise, our stateroom was comfortable, and clean. We loved it!
My family loves trying new food, so we were very excited to try the culinary on the Disney Wish. We immediately saw that the food was elevated in all spaces. As a reminder Disney offers rotational dining which gives every Disney Cruiser an opportunity to dine in each of the dining rooms at least once throughout their stay. Your rotational dining assignment will be assigned to you once you are on board.
Named after the year The Walt Disney Studios was founded, this sophisticated dining establishment evokes the glitz and glamor of Hollywood while celebrating the unwavering spirit of the original studio that started it all. Travel back in time as you dine amid storyboards, sketches and props that illustrate the early animation process, while delighting in some of the tantalizing flavors found throughout the Golden State.
1923 is split into two dining rooms, Walt Disney, and Roy Disney. The menu at both is the same. We found this to be our favorite dining location. The food is amazing!! I could dine in 1923 each night and be fully satisfied.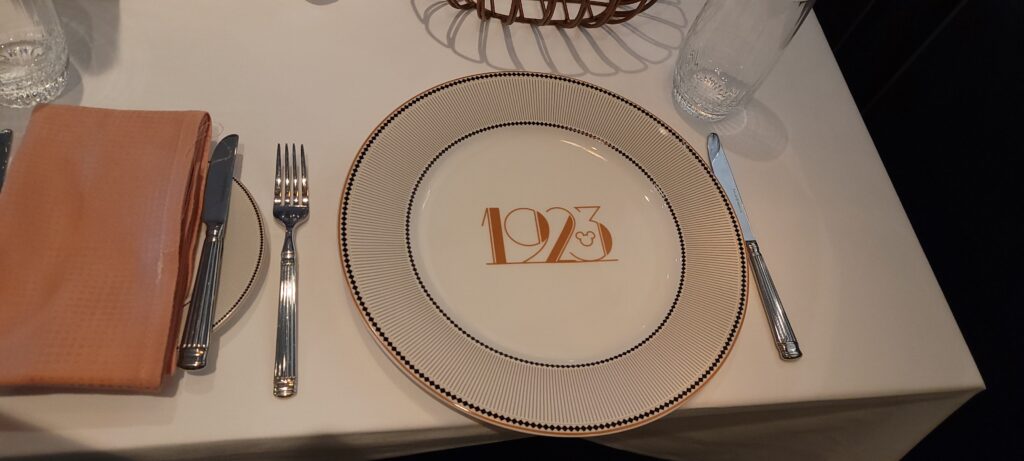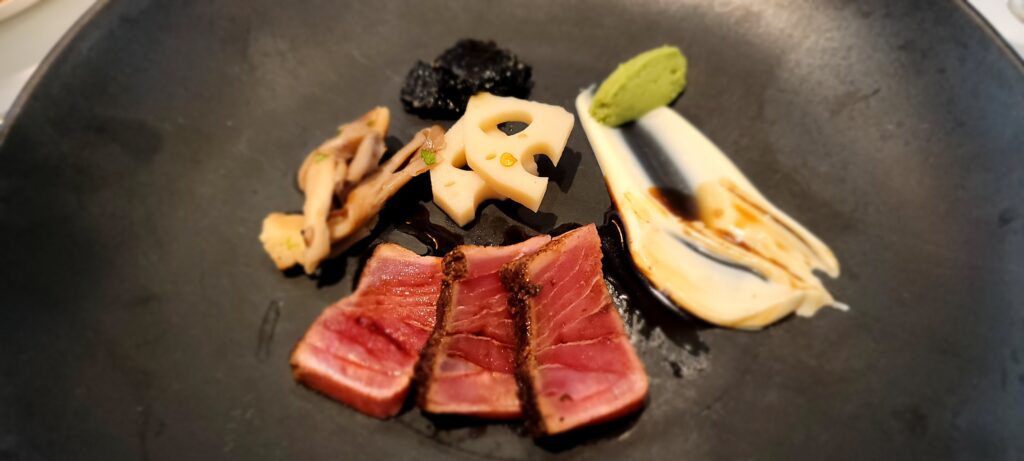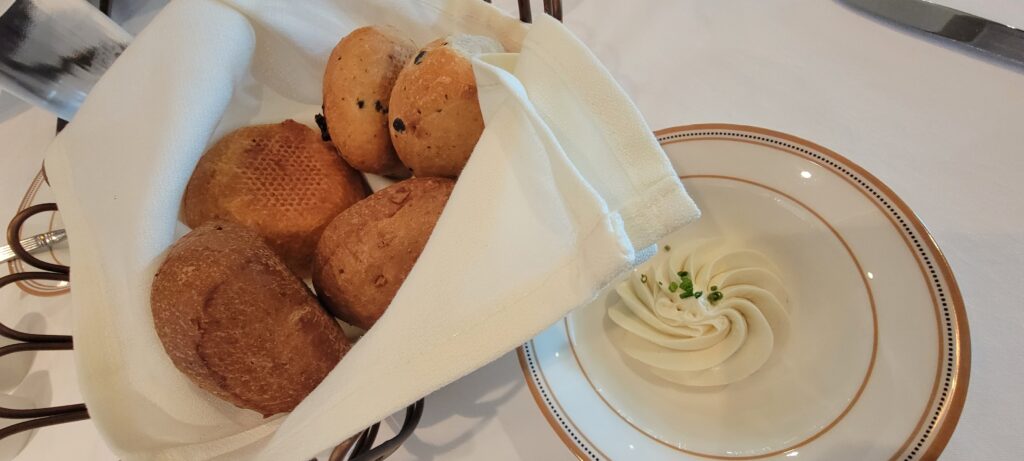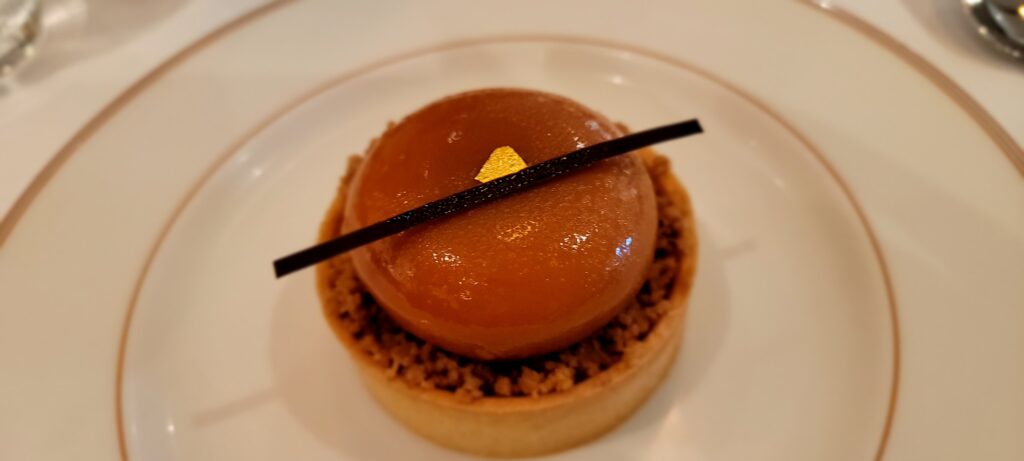 Join Ant-Man and the Wasp during "Avengers: Quantum Encounter"—a demonstration of powerful Super Hero technologies. Leap into your own heroic role using an interactive Quantum Core at your table to shrink and grow objects at the push of a button as you take part in an action-packed Avengers mission that unfolds around you.
All the while, enjoy a worldly menu inspired by the Marvel Cinematic Universe, featuring a range of delicacies from classic all-American fare to rich African flavors.
We were very excited for this dining experience and while we loved it, we had hoped for more of a character interaction throughout the meal. The food and service was great and we even walked away with a reactor for an extra charge.
Be a part of the world's first Frozen-themed, theatrical dining experience as you're magically transported to the enchanting Kingdom of Arendelle aboard the Disney Wish.
Queen Anna and Kristoff are celebrating their engagement and have invited you, their honored Guest, to join them. Behold festive musical performances from Elsa and Olaf as you devour hearty Norwegian-inspired cuisine made by Oaken himself. It's a dinner worth melting for!
If you love music, you are in for a real treat as much of your meal you will be serenated with songs from Frozen. This is a super cute dining concept that is sure to delight your entire family. The menu was yummy!!
Disney did a great job of redesigning their "buffet" space which they now call a food hall. There's plenty of seating which took away the feeling of being herded like cattle in the buffet area. This was a much-needed change in my opinion. Food options were nice, we even got a charcuterie board at the buffet!
Discover an ever-changing menu of specialized offerings at Marceline Market, named for Walt Disney's early childhood hometown in Missouri. Choose from 10 food stations and a café-style beverage bar, with both indoor and outdoor seating available. Enjoy a walk-around experience for breakfast and lunch, and table service at dinnertime.
Delight in this distinctly Disney twist: at Marceline Market, the local proprietors are Disney Characters—and the stations are themed to beloved Disney animated films!
Disney elevated their pool deck food which is a very nice change! The BBQ was surprisingly good, don't forget the sauce. One big change is the "Eye-Scream" this is now a station where a Cast Member will serve you. I feel this was a great move to keep things clean and moving.
Grab a quick bite for lunch, dinner or anytime in between on the upper decks at Mickey & Friends Festival of Foods. A variety of delectable offerings and fan-favorite treats are available from uniquely themed food stations including Mickey's Smokestack Barbecue, Donald's Cantina, Daisy's Pizza Pies, Goofy's Grill and Sweet Minnie's Ice Cream.
Inspired by the seaside boardwalks featured in "Mickey Mouse" animated shorts, Mickey & Friends Festival of Foods is a fitting addition to the upper decks' Mickey & Friends-themed family district.
Let's talk about adult escapes!
Are you a Disney Adult? No worries, Disney did not forget you in the design of the Disney Wish! You will have plenty of beautiful spaces you can immerse yourself in magical settings.
Click through each space to see pictures and videos.
Coruscant. Tatooine. Batuu. Watch worlds drift by at this stylish space bar boasting stellar views, where you can sit back and sip on some out-of-this-world concoctions while being transported throughout the Star Wars galaxy.
Families are invited to experience this interstellar watering hole during the day, but at night, the lounge jumps to lightspeed and becomes a haven for adults only, offering interactive tasting experiences and signature beverages inspired by the hit films.
*Pro-Tip: You will need a reservation to get into Hyperspace Lounge. Please make sure to visit the Navigator App as soon as you board to find out where reservations will need to be made.
Retreat to this relaxing, adults-only refuge—featuring an infinity pool, bar and poolside lounge—dedicated to swimming, savoring drinks and soaking up the sun.
Separated from the bustle of family activities, this adults-only escape spans an entire section of the ship's upper decks.
Prepare to be pampered at this elegant, adults-only restaurant inspired by the lovable pomp and circumstance of Cogsworth, the enchanted clock from Disney's Beauty and the Beast. An evolution of the Palo restaurant that Disney cruisers already know and love, Palo Steakhouse offers a scrumptious selection of premium steaks and exquisite Italian dishes.
Featuring 2 distinct dining areas amid a warm, tranquil atmosphere with spectacular ocean views, Palo Steakhouse—one of 3 new Beauty and the Beast adults-only experiences on the Disney Wish—serves up subtle nods to Beast's loyal majordomo throughout its magnificent décor.
*Pro-Tip-You will need to make a reservation as soon as you booking window opens. If you cannot get one, head to guest services immediately when you board the ship to see if there are any openinings.
Skol! Celebrate the rich folklore of Norwegian seafaring and fantastical exploration at Keg & Compass, a pub inspired by the romance and adventure of the sea. Stay up to date on news and sports as you sip on a variety of drinks, including 3 unique craft beers available only aboard the Disney Wish. The décor is inspired by the wood carvings of a historic Viking ship and includes a grand maritime map that spans the entire ceiling—rich with illustrations of Disney locales, characters and icons.
Sip a cocktail surrounded by antique mirrors and floating rose petals at this elegant, adult-exclusive lounge reminiscent of the enchanted castle from Beauty and the Beast.
*Pro-Tip-You do not need a reservation to have a cocktail in The Rose.
Inside this opulent adults-only restaurant inspired by Lumiere from Beauty and the Beast, innovative international cuisine crafted by 3-Michelin-starred Chef Arnaud Lallement and spectacular ocean views evoke a certain "je ne sais quoi."
*Pro-Tip-You will need to make a reservation as soon as you booking window opens. If you cannot get one, head to guest services immediately when you board the ship to see if there are any openinings.
Fun meets tranquility on the Disney Wish at Senses Spa—a nature-inspired oasis offering spa and beauty treatments. Relax and unwind in the Rainforest—an indoor area with heated lounges, fountains, an aromatherapy steam room, a dry sauna and a calming pool. Step outside and luxuriate in the shade under specially designed canopies and take a dip in the refreshing outdoor pools.
Let your hair down at Untangled Salon, a high-end salon inspired by Rapunzel—the Disney Princess who adorns the stern of the Disney Wish. This salon offers a variety of fabulous treatments, including hairstyling. Occupying a light, airy space, it is decorated with the colors of Rapunzel's memorable purple dress and filled with floating lantern lighting and other Tangled-inspired decorations.
Get a shave fit for a captain at Hook's Barbery, an upscale salon inspired by Captain Hook's private quarters aboard the Jolly Roger, as depicted in Walt Disney's animated classic Peter Pan. In addition to hairstyling, nail and skin care, adults 21 and older can enjoy a hidden bar featuring the finest whiskies, bourbon and rum for tasting during treatments and at special events.
Sit back and sip at Nightingale's, a sophisticated piano bar inspired by Cinderella, who lyrically sang "Sing, Sweet Nightingale" in Walt Disney's animated classic Cinderella. This classically modern space is crowned by a large glittering chandelier featuring a swirl of pearlescent bubbles and music notes, meticulously crafted out of shimmering rose gold.
Head down to The Bayou to enjoy some New Orleans-inspired refreshments in a unique, informal lounge inspired by the magical marsh in Walt Disney's animated film The Princess and the Frog. Flourishing with magnolia blossoms, lily pads and a canopy of twinkling fireflies overhead, this space brings alive the enchantment of that iconic Louisiana swamp—and is home to live musical performances and other fun-filled events.
Let's talk about spaces for kiddos!
The Disney Wish is a paradise for children of all ages. Imaginative play in whimsical kids' clubs, spectacular Disney-themed entertainment and unique activities featuring popular Disney characters are just some of the unforgettable offerings that keep kids having fun. Immediately when you board the ship kids will see the special slide that transports them to their spaces, Disney's Oceaneer Club & Disney's Oceaneer Lab.
Your kiddos time will be spent playing exciting games, engaging activities and unforgettable encounters with Star Wars, Marvel and Disney·Pixar characters inspire kids ages 3 to 12 at these enchanted youth clubs supervised by Disney counselors.
Tip for Parents
While the kids are in the clubs, adults can explore and enjoy the ship on their own.
This space is amazing for anyone who has a love for Marvel. I do and I was in awe of it. There is nowhere else at sea where you can interact with Marvel characters this way.
Calling All Heroes
Young Avengers, stand ready! Children ages 3 to 12 are invited to spring into action and train alongside some of their favorite Marvel Super Heroes, including Spider-Man, Black Panther, Ant-Man and The Wasp!
Inside this sleek headquarters, kids can unleash the hero within as they team up and select their very own super suit—and then put it to the test in a battle with some infamous villains of the Marvel Universe.
There are 10 pools and water play areas on the Disney Wish. They even have 2 splashtacular water slides!!
Even the pickiest palates will find something to savor—delectable dining at magically themed restaurants, flavorful casual fare featuring classic favorites, and convenient 24-hour room service.
Save Room for Dessert!
Enjoy a midday or evening snack thanks to all-you-care-to-enjoy soft-serve ice cream out on deck!
Pro-Tip-Disney's famous rotational dining gives you the benefit of having the same crew with you each night. Your crew will get to know your child and will interact with your child to learn their likes and dislikes. Food will not be an issue on a Disney Cruise.
I am impressed with the nursery! It is adorable and offers a bright space with a calming environment for your little ones. The cost is $9.00 per hour for 1 child and if you have more than one it will be $8.00 per child per hour. Reserve your care in your Disney Cruise Line Navigator App.
In this whimsical daycare center inspired by the beloved Disney attraction, little cruisers 6 months to 3 years of age can relax and play, while being looked after by specially trained counselors and visited by some special Disney friends.
Attached between the Oceaneer Club and Nursery you will find Mickey & Minnie Captain's Deck. This adorable space is nautically themed complete with activities and games, including slides, ship wheels and more. Plus, for even more fun, kids can hang out with Captain Mickey and Captain Minnie when they stop by!
What an amazingly themed space for anyone who loves Star Wars…Adults, you cannot go in! But you can reach out to your Guru Travel Professional to find out how you can tour it.
Enter the Star Wars Universe
Ready to support the Resistance? Join Rey and Chewbacca in this first-of-its-kind immersive experience set on board a starship!
"Star Wars Galactic Creature Keepers" is a fun-filled adventure at Star Wars: Cargo Bay where kids step into a highly interactive space modeled after a high-tech cargo bay. They're put to the test as they feed lifelike, interactive creatures and encounter some of the most dangerous beings in the galaxy. With the help of Rey and Chewbacca, they channel the Force to secure the ship!
Do you have a little engineer on your hands? The Walt Disney Imagineering Lab is the perfect spot for them to hang out and create their own Disney attraction. I find this area innovative. Disney did a wonderful job of meeting kiddos where they are at, bring on the technology.
Be a Disney Imagineer
Imagine what it would be like to create your own Disney attraction. At Walt Disney Imagineering Lab, kids can do just that! Through exciting hands-on activities, children will get a unique behind-the-scenes peek and discover how Disney magic is made.
Kids can also tap into their own imaginations and design their very own roller coaster in the style of attraction classics like Big Thunder Mountain and Space Mountain—and climb into a specially designed capsule to actually ride it!
Fairytale Hall is beautiful! You step right into classic fairytale settings and while you are there you may get a visit from Disney Princesses and Queens!
Wondering what else you do in there?
Inside Fairytale Hall, young royals can craft floating lanterns at Rapunzel's Art Studio, act out their favorite stories in Belle's Library, and even create their own ice magic at Anna & Elsa's Sommerhus. Happily ever after on the high seas, indeed!
We all know that teens can be the hardest to please. No worries, Disney already did a great job on the Dream and the Fantasy creating teen spaces so naturally they enhanced what they already know for the Wish. If your teen is between the ages of 11-14 they will go to Edge. The Edge is exactly what you would expect, a relaxing hangout where they can watch movies, play games, and take selfies.
Older teens and young adults will enjoy the Hideaway. This is an all new space designed just for them.
Disney is an entertainment company, so we expect a lot from them in terms of story and shows. They never disappoint. The Walt Disney Theater is a Disney Cruise Line staple, it is beautiful! This is where you will come together each night of your sailing to enjoy entertainment at sea. The Disney Wish has 3 amazing Broadway style performances for the entire family to enjoy.
The Little Mermaid
Disney's Aladdin – A Musical Spectacular
Disney Seas the Adventure
As a reminder your show time will be based on your dining schedule. Consult your Guru Travel Professional for more details.
A hub of family fun during the day, this twinkling lounge magically transforms into a dazzling adult-exclusive lounge at night.
The Disney Wish is spectacular in all of it's glory. It is apparent that Disney was going for a different feel on this ship, it is whimsical. I feel that the Disney Wish will awe new cruisers to Disney Cruise Line and leave some seasoned cruisers saying that they need one more go at it to get to know it a little better. Do not fear, that does not mean it is not good, it is wonderful! It is just different than anything Disney Cruise Line has done before.
My professional recommendation is to study the deck plans so that you can become familiar with what is offer on the Disney Wish. For now, she is only sailing 3- & 4-night journeys so you may not have enough time to take full advantage. Many of my clients have booked back-to-back sailings so that they can relax and enjoy!
Guru Travel is an Authorized Disney Vacation Planner. We would be honored to help you plan your next Disney Cruise Line adventure. We have been on all of the Disney ships, and we are prepared to walk you through each of them so you can narrow down which one is right for your family.
Get Your Cruise Quote Today!